I love having frames dotted around the flat, they make it feel more homely and lived in. As well as framed photographs, I also love to have framed art prints as they add something extra to my decor.
I'm always on a budget when it comes to decorating my home and the cheaper the better. This doesn't always apply to the quality of something, I've found that you can get just as good quality decor items in shops such as Wilko, Homesense and Home Bargains, compared to what you can get in more expensive retailers. So, when it comes to having framed art and quote prints, I like to find bargains or create my own for less.
Quote print packs
These are a little harder to come by, but check your local Homesense and TK Maxx for packs of quote prints. I picked up a pack of 12 a while ago for £4.99 but they can be quite hard to find as it depends on their stock levels. I've hung some of the prints around the flat with copper bulldog clips and have some of them framed too. I picked up this frame from George Home for around £3-£4 and the prints work out at around 42p each (!!!), so this is another print under £5.
I recently saw some amazing wrapping paper in John Lewis and I had to buy a sheet of each. I plan on using it for my scrap book and other bits and pieces and I knew it would look great in a frame. I bought two 4 x 6 inch frames from Wilko for 50p each, then measured and cut two 6 x 4 inch pieces of both of the prints for the frames. I love how they turned out and they were so inexpensive. John Lewis, Marks & Spencer and Paperchase all have amazing sheets of wrapping paper so it's worth a look.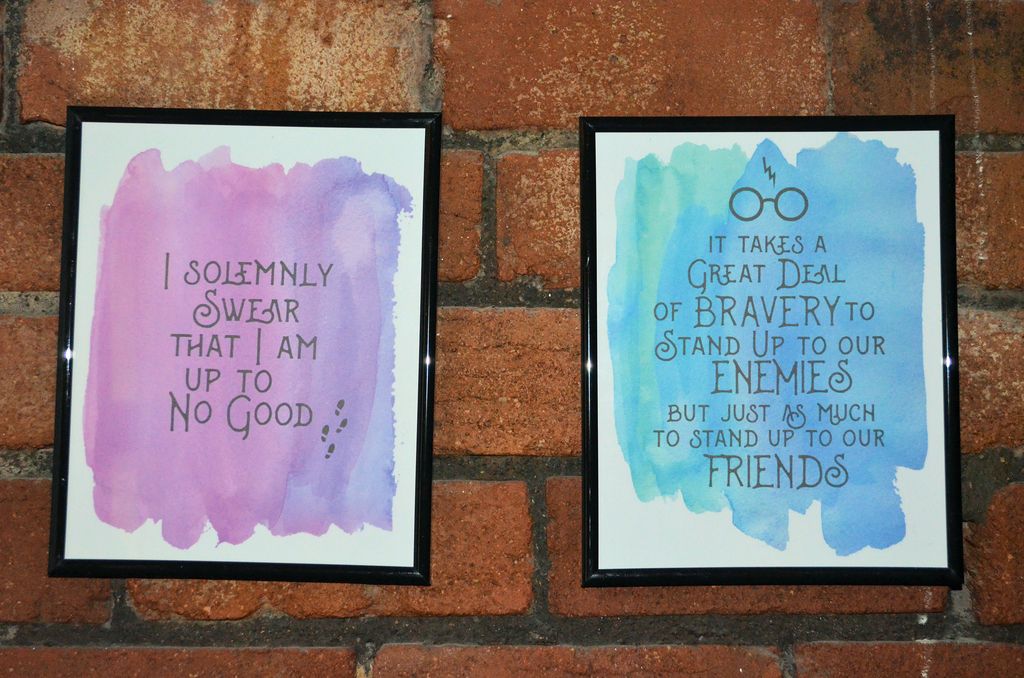 Free printables
I've already mentioned my love for websites where you can get free printables but they are such an easy way to get really nice prints for free. I print mine off on card, so it's a little sturdier. You could get them printed off on a better quality paper or card and shops such as Staples or Rymans, offer an inexpensive printing service. I personally prefer to save the pennies and print them off at home.
I always to go Wilko for frames, and sometimes Home Bargains too. These Harry Potter prints were 10 x 8 inches, so I picked up two frames from Wilko for £2.40 each. The total for these two prints were £4.80 which I think is a bargain for good quality prints.
I really hope you can use my post for a little inspiration. If you're amazing at drawing, typography or graphic design, you could create your own prints to frame too. Most of the frames I get are the 'Wilko Easy Photo Frame', as they are so inexpensive. You could of course pay a little extra for your frames if you want your frame to really do the talking!