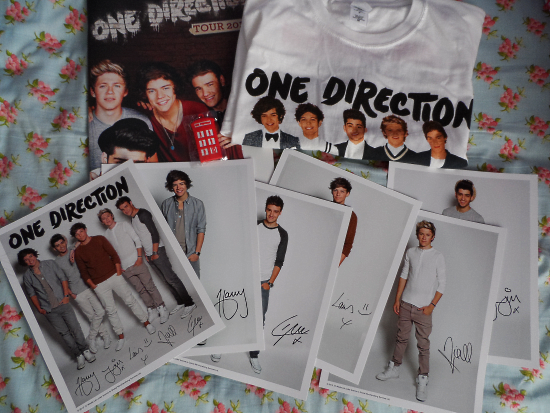 I know most readers won't be particularly fussed over reading about what merchandise I got at the 1D tour but I thought I'd share it with you all anyway. For 1D mega fans based in Yorkshire, the 1D World is now open as part of the new Trinity shopping centre in Leeds City Centre. It's only temporary until Sunday 14th April but if you're a 1D fan and you can get to Leeds, it's definitely worth a trip to.
The merch at the tour was pretty good; it was the standard mix of 5/6 different t-shirt designs to choose from, hats, programmes and keyrings. I would have bought everything if I had unlimited funds so I had to buy wisely and bought a programme (£15 – a MUST at any gig/event!), t-shirt (£25 (adult) – another must!), keyring (£5) and a set of 6 'signed' pictures (£5 – a bargain since they work out less than a pound each!) One thing I hate about big arena tours is the insane huddle around the merch stand, which I always seem to get served after everyone else who came after me! But luckily there was an official merch stand outside the arena when I got there and because I was pretty early I had to queue after a few people and it was less pushing in!
I made a trip to 1D World on Monday so see what other merch they had. They had similarish merch to the stuff they had at the tour, t-shirts, keyrings etc, only it was 'less official' looking. They even had full size cardboard cut outs which I really want! I bought a Harry keyring for £7 and a 'Collectors Box' for £20 which came with a 2013 calendar, pen, necklace, pack of 5 wristbands, 2 free downloads, tote bag and also a set of picture cards. My only qualm is that if you wanted a carrier bag for your stuff you had to pay £1 for a 'souvenir' carrier bag. The cheek! But as a Directioner I had to buy one! Oh dear.

FIND ME ON:
Twitter | Instagram: @katiebearx