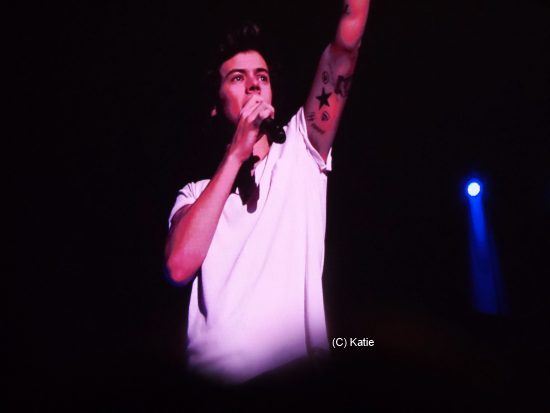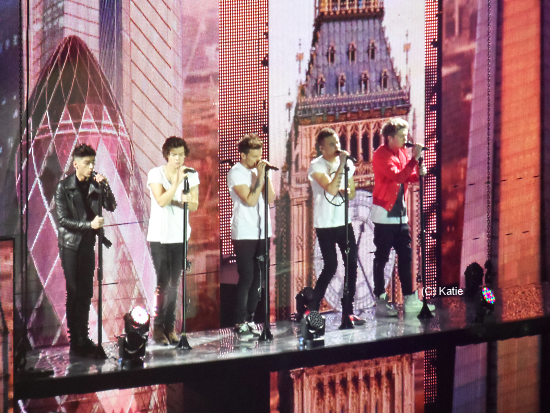 I've been banging on about going to see One Direction for over a year now and 'the day' finally came around! I bought the tickets last February but the year came and went quicker than I thought. I went with my mum and we decided staying over would be best, so we booked a cheap hotel which was basically next door to the arena so we could stay over. We spent the day after seeing 1D shopping at Meadowhall in Sheffield which is amazing (I've been once when I was a baby) but it was so hard to figure our way around, everywhere looked the same and there were so many different side bits to go down!
There were two acts supporting 1D; an American girl called 'Camryn' who was kind of average and really fit the 'all American' girl image. After a quick google search I've just found out she's actually 13! She looks at least 18/19. Weird! An Australian band called '5 Seconds of Summer' played second and they were pretty good, although they did mimic Busted a lot by jumping with their guitars.
One Direction played for about 2 hours and it was amazing. Zayn was amazing vocally too. They interacted with the fans, had play fights on the stage and thankfully there were no incidents with any shoes being thrown…
I took over 500 photos ~fan girlllll~ so I selected a few of my favourite snaps from the night to show you. I was one of those oldest person there, not including any parents, and it was kind of awkward when girls were talking about how everyone at school will be jealous…
~Quick note~ By adding a watermark I'm not suggesting that anyone would want to nick my photos or that they're amazing photos. They came out ok thanks to an good camera but watermarking them makes me feel a little more reassured. I never watermark any other photos I put on my blog but with these photos being of One Direction I figured they may be more coveted.

FIND ME ON:
Twitter | Instagram: @katiebearx