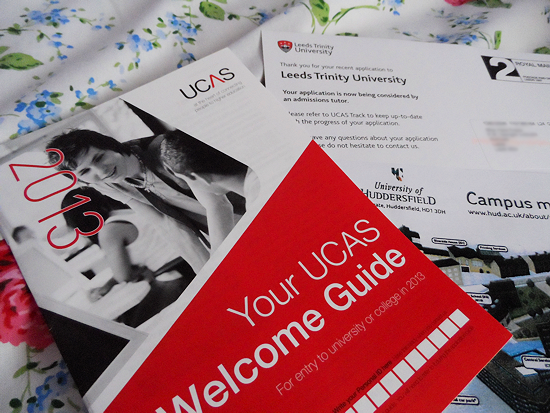 Going to university is something that for a lot of people is a natural decision. After your GCSEs, the next step is to get A-Levels, at either college or 6th Form, then you pack your bags and head off to university.
I've never felt the urge to go to uni, even when I was at 6th Form. I was made to apply through UCAS and create a personal statement, so I half-heartedly made an attempt of applying for uni. At the time my only passion was graphic design, it's something I'd been doing for a few years before then and I thought I'd like to get in to a career in the graphic design industry. I wasn't 100% in to it; as much as I loved graphic design, I just felt like I was too young at 17/18 to decide what to do for the rest of my life, or at least a big chunk of my life.
After I left 6th Form with my A-Level certificates in my hand I decided to have a year out to figure what I really wanted to do. During this time I realised the career that I wanted to get in to was journalism. It wasn't a career that I randomly picked out of a hat; I've been a fan of writing and producing written content most of my life, it was just something I never thought I'd make a career out of. I found a BTEC National Diploma journalism course at a local college and applied, hoping this would give me the skills I needed. The course was extremely varied, we covered everything from interviewing, radio news, TV programming to photography. Even though the course was varied, it still didn't change my outlook and what I wanted to do which is feature/magazine/newspaper work. Ultimately I want to write, write and write all day long!
After two years of the course I came out with a Triple Distinction grade, which is the highest you can get. I'm always going to be proud of that; I wasn't the highest achiever at school and there was always someone who got better grades than me so I felt really proud of myself to get the highest possible grade. I had another year out and I tried my hardest to get work experience, which I managed to get a day at ITV Calendar News, the ITV regional news for Yorkshire and the Humber. It was an amazing experience, I felt so lucky and honoured to be able to join them for the day.
I'm not sure what made me realise that university was finally for me, one day I suddenly realised that uni was the next stage of my life that I needed to take. I went from being pretty negative towards uni, thinking it wasn't for me, to being all over uni prospectuses, working out which course and which universities are the best for me. I applied through UCAS, got a college tutor to do my reference and typed up my personal statement. Suddenly something that seemed a waste of time became something I wanted to spend all of my time doing. Now I WANT to go to uni, I WANT to spend all day in lectures and seminars and I WANT to become the best journalist I can be with the help of university.
University isn't for everyone; it all comes down to what career path you want to go down. Want to be an electrician? Apprenticeships are for you. Want to get in to the makeup/beauty industry? Sometimes college qualifications and work experience are all you need. There's always an, often non-spoken rule, that you have to get A-Levels and then go get a degree in order to become successful in your career; and that's not always the case.
As much as I'm happy about my decision to finally go, there is a little factor niggling at the back of my mind. I'll be 26 when I graduate and that really bothers me. When I was younger (and more naive to be fair!) I planned that by 26 I'll be married (or at least engaged) with my own house, fancy car in the drive and my dream job. At 26 I'll only just be starting my career, but as one friend once put it, isn't it better spending a bit more time and effort in gaining the qualifications and skills needed for the job that you will do for the rest of your life? And she's right. I'd much rather be 26 and just getting started in my career than being 26 and stuck in a dead end job that I hate. I feel that now I have more life experiences (both personal and career wise) and I'm mentally more prepared that I would have been when I was 18, for what university entails.
In the meantime, blogging is getting me through the 7+ month wait until I take my first few baby steps in to university life. I'm hoping to improve my writing skills ready for uni and I'm glad to say that I'm finally ready for uni, even if I'm a few years behind!
I hope this has given you an insight in to why I've left choosing to go to university until I'm older; I'd love to hear if you decided not to go to uni and your reasons why. Have you gone to uni and quit half way through? Let me know!
P.S – Life has taken over in the past week or so, hence the lack of blogging!

FIND ME ON:
Twitter | Instagram: @katiebearx