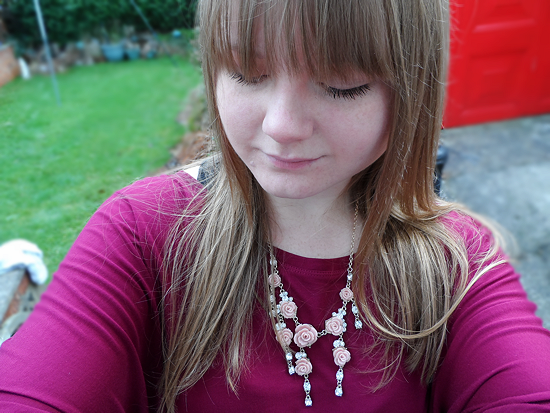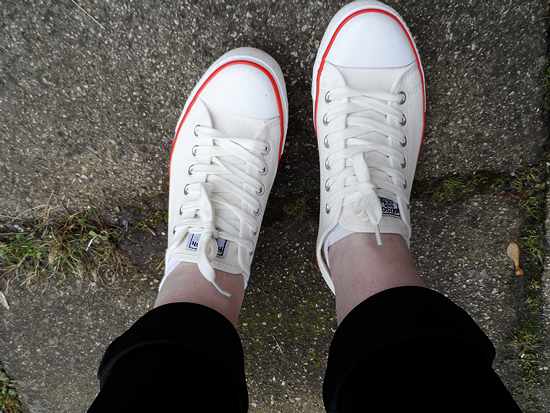 Top / Matalan
Disco Pants / River Island
'Converse' / New Look
Necklace / Primark
Bracelet / Gifted (Accessorize)
Please note I do actually have a head, awkward lighting meant that if I had my head in the photo it made it awful and blurry ~blogger problems~. I wore this outfit two days in a row (making most of an outfit there…), I first wore it to the cinema and dinner and then because I loved it I decided to wear it the next day to go shopping with my Grandparents. Both the top and the disco pants had their first outing since I bought them (the top I bought in August last year and the disco pants in November), I'm really terrible for buying things and not wearing them for months.
I love these 'disco pants', although because of my body shape hem (bit of a belly!) and the high-waistedness of them, I find myself having to attempt to pull them up but they're pretty hard to pull up! But they're so comfy and I find them more flattering on me if I turn them up at the bottom. I'm self-conscious of the tightness of them so I have to wear a long top that covers my bum and I don't really have any that aren't dresses but then I remembered the top I bought way back in August. I really like the loose fit of it and the colour; they had a few more colours and I regret not buying more because I really do love this top! I'm on the hunt for some more basic longish, loose fitted tops like this, so if anyone knows of any, please let me know!
The 'Converse' are from New Look and are really good value for £9.99. My friend Danya bought me the London charm bracelet a few days after I broke up with my ex as a cheering up present. It's a really heart-warming gift and I absolutely adore it because she knows how much I love London and it really brought a smile to my face.
A quick side note - I WON A GIVEAWAY! I won one of the prizes in Ashleigh's giveaway and I won the second prize, the super cute Glamorous dress! It's the one prize I REALLY wanted so I'm glad I've got my mitts on! I love polka dots, peter pan collars and skater dresses/skirts so basically this is the perfect dress in my eyes. I think that was the second ever giveaway that I've entered and I won something; so happy!

FIND ME ON:
Twitter | Instagram: @katiebearx
Title : Crash - You Me At Six