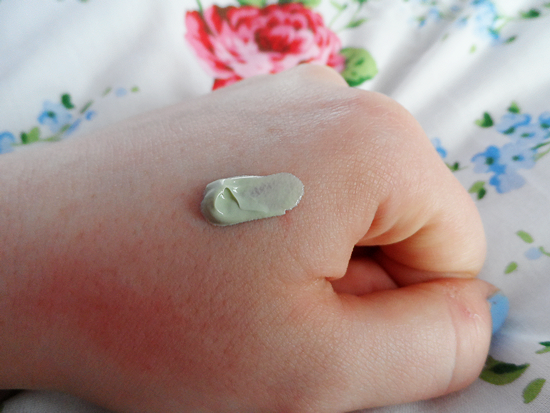 I picked this up from Selfridges when I was in Manchester back in late January. I've read up about this quite a bit and decided I needed to get this to help battle my tomato face. I think my redness is heat related; central heating and having the fire on really triggers redness in my face and also on my décolletage, although sometimes it'll flare up even in average temperatures. It's really annoying because it's not only on my cheeks but also my chin and sometimes my nose and it affects my confidence a lot when I notice my face going red. I already have a cream from 17 that is pretty old, I don't even think it's stocked anymore, but that doesn't really help protect my skin from going red throughout the day.
This Clinique Protective Base acts as a primer and is green-tinted to calm any redness I have before I apply my makeup. Unfortunately it isn't a miracle product; I don't think any product can help redness flaring up during the day but I do notice that I'm not flaring up as often as I did before and if I do it's not as red and obvious.
The consistency is quite thick and I find I don't really need a lot to cover my face. I can see this lasting ages so the £16 price tag doesn't really bother me. I know I sound really tight with my money (I'm not really!) but when it comes to makeup/skin care, I hate buying things that I end up not agreeing with then I've wasted my money. I am trying to take more risks, although I do a lot of research in to products before I buy them!

FIND ME ON:
Twitter | Instagram: @katiebearx