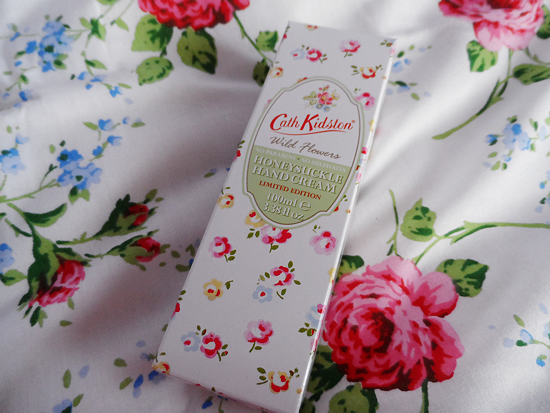 Like everyone and their mother (including my own), I adore Cath Kidston. In an ideal world my entire house will be Cath Kidston-esque; think floral teapots and tea towels in the kitchen, floral bedding I the bedroom and basically everything will be floral and pretty. The beauty range from Cath Kidston is an easy route in to building up a Cath collection because it's usually the cheapest of the entire range.
I was insanely happy when I saw my local TK Maxx had stocked some Cath beauty goodies and out of the lot (miniature shower gels, hand wash); I figured I'd get more use of this hand cream. I also bought one for my Cath Kidston-mad mum too. TK Maxx stock it for half price compared to what you'd pay for it in a Cath Kidston shop, which is a pretty good saving. I've checked the CK website and this particular edition isn't available online so I'm guessing its last season's, although TK Max can stock current season products. The hand cream comes in a massive 100ml tube, which is pretty good for a hand cream. The tube is metal and retro and the typical Cath Kidston packaging. It's also nice that it comes in a sealed box, so you can easily see if someone has opened and tested the cream. The scent is a lovely floral scent and I'm guessing it's what honeysuckle smells like although I've never smelt it before! It rubs in really nice and leaves my hands feeling soft (and smelling great too!).
Have you bought any Cath Kidston bargains at TK Maxx? I'd love to know!

FIND ME ON:
Twitter | Instagram: @katiebearx