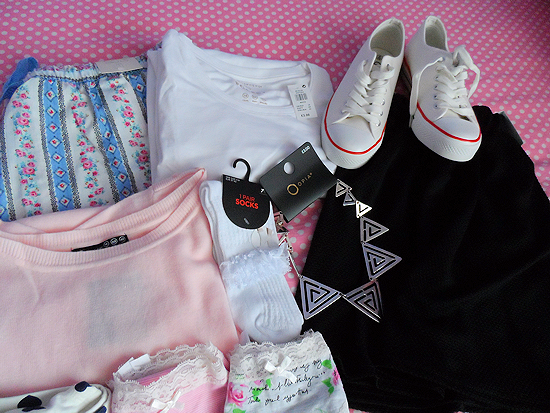 I mentioned in my sale post that I was going to do a post on the bits I've recently bought and here it is! I love posts like these; I love to have a nosey at what people have bought!
The majority of the stuff I've got is from Primark which is my all-time favourite shop. The three pairs of pants are a £1 each and Primark underwear is amazing and so cheap! The pj bottoms are the pj bottoms of the moment. I've seen so many people wearing them on Instagram it's unreal! It did make me want to buy them though so when I saw the in the Leeds City Centre Primark I had to pop them in my basket. I got the plain white top from the normal clothing section for £3 because all of the plain pj tops are either vests which I hate wearing for bed or don't match because they are a different design. I bought a few pairs of frilly socks from Topshop a while ago and wanted a white par but decided £3.50 a pair (!!?!) is a little ridiculous so I knew Primark wouldn't let me down! These were £1 and I can't wait to wear them with (hopefully) bare legs and Converse in the summer. I already have three black skater skirts (two plain and one velvet) but I couldn't resist this textured one. It was £8 and came in khaki too. Primark jewellery is really good; I always buy a couple of bits every trip to Primark. This silver triangle necklace is £3 and will look cute under collars. The baby pink jumper is so soft and was only £5 which for Primark is really cheap! I can't wait to wear it in the spring when pastel colours are back in!
I bought these fake Converse from New Look for £10. I own a few pairs of Converse but I've always wanted a pair of white low-tops. I'm reluctant to spend £30+ on a pair of actual Converse for them to get really mucky. New Look are really good for fake Converse, they have loads of colours and are really cheap too.

FIND ME ON:
Twitter | Instagram: @katiebearx