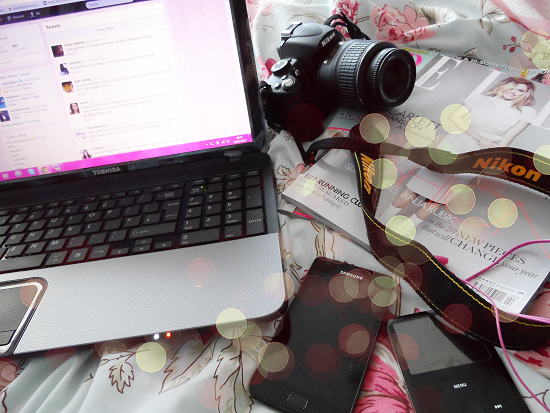 It's not often I'm sat in front of the TV watching a programme that I'm REALLY interested in. My nights usually involve the soaps (Coronation Street and Eastenders FTW) then you'll find me plugging my iPod in and digging out a magazine. Sometimes I'll venture up to my room, put a few candles on and watch some Disney Classic movies with a nice mug of tea. My new favourite TV show is Mr Selfridge, which in fact I only wanted to watch because I'm a girl and of course I love anything to do with shopping. As a result in my obsession with Mr Selfridge, I realised I'm way too in love with Jeremy Piven. But I'll save that for another time…
A programme called 'Don't Blame Facebook' came on to my radar the other night so I decided to watch it. The whole concept of the programme was basically 'be careful what you say/do online'. It featured people who had everything from prison sentences to job dismissals all because of what they said or did online. Everything you do and say on any social media site, such as Facebook, Twitter, Youtube and so on can have some form of consequence. Scary thought? I often worry about what I put online because everything and anything can be taken the wrong way. An innocent tweet can be misconstrued to something totally different and it really worries me sometimes. Something that can be a 'joke' in a real life situation can be misinterpreted to something completely different online.
I find it so much easier to talk to people and get my feelings across about something online than in real life. It's always been that way since I was a teenager, when I first started on MySpace when I was 15. I always wanted to be 'popular' online and I soon gained around 1000 'friends' on MySpace and around 5%, probably less in all fairness, I actually knew in real life. Fast forward to my adult life and a progression in social media and now I'm on most social media sites, Facebook, Blogger, Twitter, Instagram, Tumblr, Pinterest and so on. I'm not going to lie to you all and say that gaining a new follower on Twitter or getting enough likes on a photo on Instagram so it says '11 likes' rather than list the people who like it, doesn't make me feel a little bit happy. Facebook is for my 'real life' friends and I don't even list where I work, although the majority do know where I work. I'm just worried that if I list where I work, it will affiliate myself with the company and although I never say anything negative about work, I just worry anything I say could be picked up on. Twitter is for my 'internet friends' and I feel so much more comfortable saying how I feel about things because I don't really feel like I'll be judged on Twitter whereas I will on Facebook because I might say I'm sad one day on Facebook then the next day I have people I work with asking me about it. I've had my fair share of mistakes I've made online and I've learnt so much about how social media works and the disadvantages of it sometimes.
A few weeks ago I found a photo on Facebook that someone had liked. Now, whenever you like a link, photo etc on Facebook, it brings it up on your feed. The photo showed a teen girl and boy having a little 'personal time'. It was pretty weird because a random guy at the side was posing next to them as if to say 'hey, I just crashed their sexy time, let's document this monumental moment!' The girl looked pretty devastated and the guy she was having 'personal time' with looked pretty pleased with himself (think thumbs up here). I read through some of the comments the picture received and it varied between saying the girl was a slut and a whore, some people were saying they're doing a completely normal act. But through all this hate and praise the image received, I felt really sick and sorry for the people in the image. That image is now floating around Facebook and probably other social media sites for all to see. I'd be devastated if it was me. So it's pretty obvious to warn you, but NO NUDE PHOTOS. Even photos sent on phones can easily be uploaded by your boyfriend, sent to friends to impress them or whatever, then they send them to their friends, and the next minute your nude private photos are all over the internet.
I'm really cautious of what I put content I put on my blog. It's really strange really because I write down feelings, what I like, what I hate, even what beauty products I like to slap on my face (not literally!) but I like to keep some content private. Obvious details such as mobile phone numbers, addresses, exact areas you live etc needs to be kept private. I've posted the odd photo of my brother on my blog but I like to keep personal holiday photos and similar content private. At the end of the day your blog, including mine, isn't just viewable (unless you set it to private and invitees only) by your followers, it is a website that can be viewed by millions of people from different countries. Uber scary thought when you think of it in that way. This means it's so important to keep some details private. It's ok to tweet that you're going to Starbucks but try not to tweet the exact Starbz you're going to.
Without wanting to sound patronising or rambling on and on, the moral of the story is to be careful what you say and do online. As well as being a negative sometimes, social media can be an absolute babe sometimes. I can find anything out from where my lost parcel is via a company's Twitter account to who is going out with who. Great! But it can also lead to criminal charges, dismissals from work and other gut-wrenching thoughts. My motto is to keep blogging/tweeting/typing/instagramming/tumblring/pinning/youtubing, but create yourself your own personal line that you know not to cross and stick to it. Happy social media-ering!*
*I totally made that word up by the way
Let me know if you've ever had issues or situations when social media has gone wrong for you! I'd love to hear what you think of this post, I'm hoping it makes people think about what they post online.

FIND ME ON:
Twitter | Instagram: @katiebearx