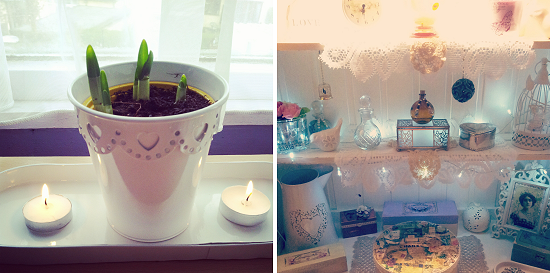 I haven't had jam tarts in years, yummy! – Home Alone marathon – Post-Christmas shopping – Organising my skin/body stuff – Outfit for a cheeky Starbucks and shopping trip – Results of going shopping – Oh Zayn – Cute hair clip – New camera! – Found my McFly Obviously signed vinyl – Bought a cute mini daffodil plant for me to look after! – Mum's dresser looks pretty.
Hey guys! It's been a while since I've done a Sunday post because the week after Christmas I was posting about what I got up to at Christmas and all the days have blurred in to one, so I kind of lost track of when I did posts like these! I've got a lot of photos because I've recently Instagrammed A LOT so sorry for the long post if you hate long ones!
I'm still gutted Christmas is over but all the decorations and the tree are down so it really does feel like a 'new year, fresh start'. I'm decorating my room when it gets warmer so in prep I've tidied and organised my room. I'm a slight hoarder by nature but I've slowly weaned myself out of this and tend to chuck stuff out more than I used to. My room is nearly how I want it, apart from getting decorated, but I still have my wardrobe to sort out!
I've got a lot of posts planned for the next couple of weeks; it's just finding the time to do them! But I've started to be a bit more organised and write them down so I don't forget about them!

FIND ME ON:
Twitter | Instagram: @katiebearx