There's only five days left until 'the big day', eek! If you're not an organised bunny like me and you still have a few last minute presents to get then fear not, there's still time! I've put together a few ideas that I thought of for last minute gifts that should be easy to get hold of.
Photo frame – Everyone loves a pretty frame with a nice photo so this is a pretty fail safe gift idea! The picture frame pictured (haha) is from Next and I got it back in October for £8.00. It's for my Mum because she loves cream and white details to go in her bedroom and I know she'll love the 'family' detail on it. I popped a picture of me and my brother on holiday in the summer because I love the photo and I know she'll love it! Photo frames should still be fairly easy to get because they're not an obvious gift idea and they are sold all year round in shops!
Home made hampers – This is a lovely idea I found on Pinterest. Buy a basket and simply fill it with cute things! This one is tea-themed, with the teapot, chocolates and sweets in a jar but you could do anything depending who you're buying for! Other ideas include buying baby bits and bobs such as baby wash, baby powder etc for an expectant mum or buying Christmas food treats for a foodie!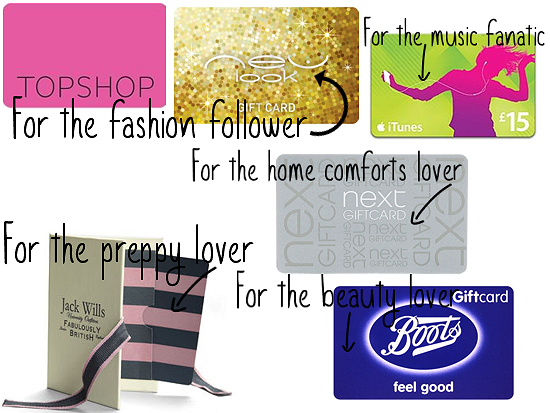 Gift cards – I love gift cards, you can buy exactly what you want with them and people always appreciate them. There's a gift card for everyone so even the most 'hard to buy for' people are easy to get for because most retailers have gift cards; even supermarkets! Gift cards are sold all year round so they'll still be available now!
Hope this has helped people! My presents are all bought, wrapped and are now all living under the Christmas tree! (not that I'm showing off!)

FIND ME ON:
Twitter | Instagram: @katiebearx