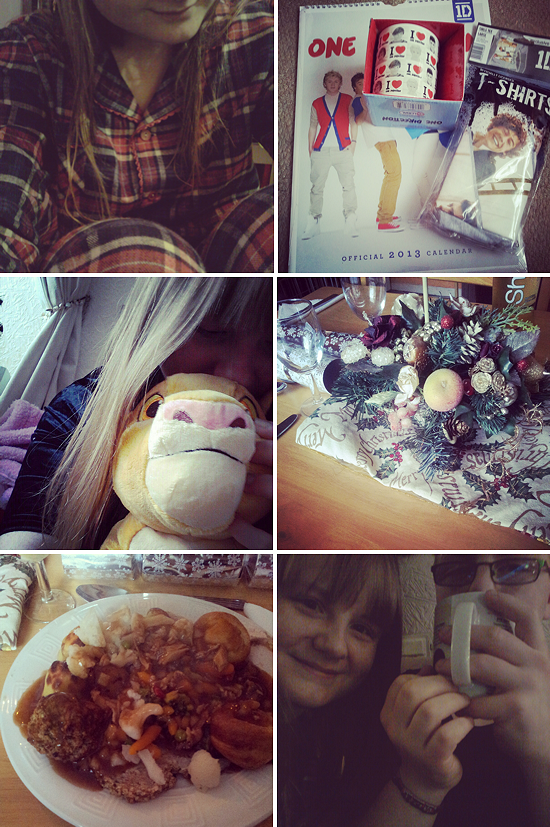 Christmas Eve in my new Christmas PJs – My brother bought well! – Simbaaa – Nearly time for Christmas dinner – So good! – Me and the brother
Hope you all had a wonderful Christmas! I hate that it's all over; Christmas is my favourite time of the year and I hate the weeks after when you have to take decorations down and put away all of your presents. I feel very lucky to get loads of lovely things; I was definitely spoilt rotten by my lovely family and friends! I got loads of One Direction goodies including a t-shirt, mug, lunch box, book, CD, notepad and pens, 1D Love Hearts, annual, sticker book, poster book, DVD, the list goes on. I also got a Simba teddy too but I totally forgot to photograph it with the rest of my stuff! All of my presents are currently housed in some One Direction gift bags (ah-mazinggggg), ready to be put away in the New Year when I do the enviable task of clearing and sorting out my room so it's nice and fresh for the New Year.
I spent most of Christmas slobbing about in my PJs watching Disney films and munching on chocolate with my family. One of the things I love about Christmas is getting to spend some quality time with family and family that you hardly get to see too! Hope you all had a lovely Christmas guys!

FIND ME ON:
Twitter | Instagram: @katiebearx