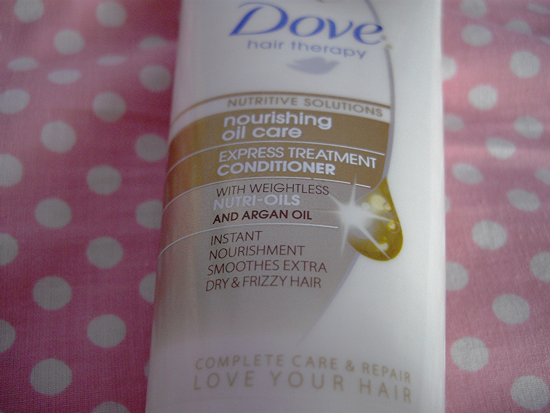 Dove Nourishing Oil Care Deep Repair Treatment Mask
I'm a little behind on this bandwagon since the Nourishing Oil stuff came out months and months ago, but at the time I never got round to buying any of the products. I'm new to Dove hair-care products; they've just never particularly stood out to me on the shelf. I was in Boots a couple of weeks back and saw that Boots had an offer on most Dove hair-care stuff, so I decided to pick up these two. They were both roughly half price (not sure if the offer is still on!) so they both came out at around £1.60-£2, bargain! I'm on a hair mission at the moment; I'm buying so many conditioners, leave in treatments and serums so I can get my hair feeling healthy. I have really fine hair so any damage is really obvious and I hate it when my ends feel dry and awful.
The Express Conditioner is an everyday conditioner, although I prefer to use it every other day. It leaves my hair feeling really healthy and I can see myself repurchasing when I run out. It's nothing special in comparison to the other everyday conditioners I have but I really like the way this one lathers. The Regenerating Mask is pretty special though! I've been keeping my eye open for a decent priced mask; something I can use once a week for a deep treatment. I leave this on for 5 or so minutes and wash off and I love the results I get. My hair feels really soft, healthy and looks really shiny too. I only have to use a 50p amount of this to get enough to cover the ends and mid-length of my hair, although you may have to use ore because my hair is really fine. I'm defiantly going to re-purchase this when it runs out! I'm also going to get my hands on the Leave In Conditioner to because I've read some pretty good reviews on that too.
Have you tried the Dove Nourishing Oil products?

FIND ME ON:
Twitter | Instagram: @katiebaby_