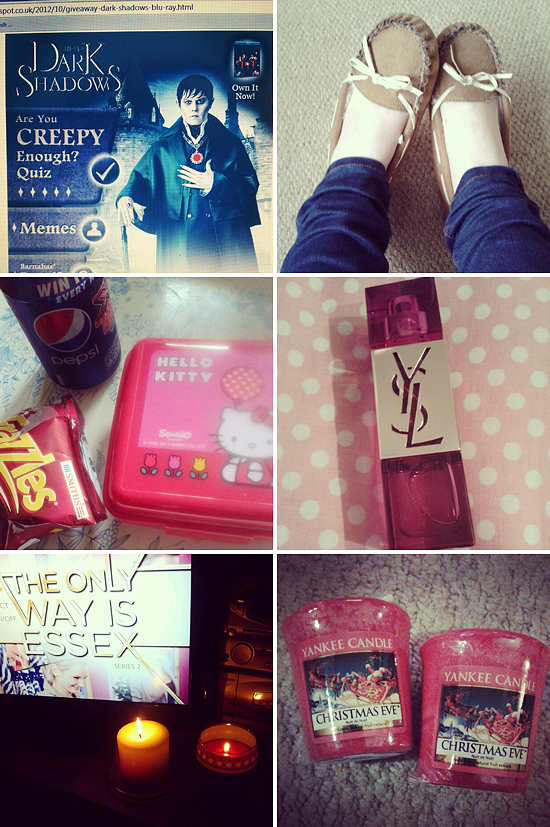 Held my first ever giveaway! | Cosy Primark slippers | Lunch at the Grandparent's | Favourite perfume | Perfect combo | Saving these for Christmas Eve!
Have you ever had one of these weeks that you desperately want to be over and crave for Monday morning? (now I don't often say that). This week was definitely one of those weeks. It started well and was pretty kind until Thursday/Friday. My brother had been out Thursday night and he went to uni first thing Friday morning so I hadn't seen him since Thursday morning. My Dad rang me Friday morning asking me if I'd seen him, which I hadn't. Then he told me that whilst he was out last night, he was beaten up. Long story short but after he'd left his mates to go home and went to get some money out of an ATM. Whilst he was doing so, a group of 6 guys started filming him on their phones. After he told them to stop, they decided to punch him. He's currently sporting a black eye, cuts and bruises. He took it pretty well actually (more than me) and joked that his pride is knocked a bit after getting beaten up by One Direction. It's awful to think that anyone could ever hurt someone you love, never mind see the damage they did but the shock of it is wearing off. I hope their Mum's are really proud of them.
I went shopping yesterday (hence the lateness of this post!) with my Mum. My brother and my Dad went to a car show thing in Birmingham with my Uncle and Grandad so me and my Mum went to the White Rose shopping centre in Leeds. It was one of the worst experiences of my life! I've been loads of times but it's been years since I've gone at the weekend. A million people walked into me and it was boiling in every shop. I seriously never thought I'd make it out alive. But I did and I came home with a few goodies! I'm going to stick them in a haul post and show off what I got! I didn't get loads but I treated myself with some of my overtime money.

FIND ME ON:
Twitter | Instagram: @katiebaby_