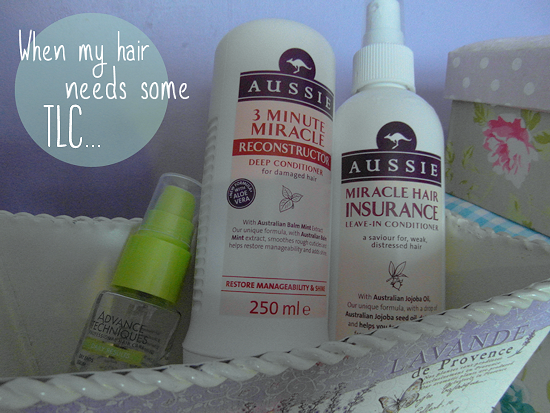 I'm often told I have nice hair (seriously not bragging!), I'm quite lucky to have a really nice natural shade that people often ask what shade and brand I've dyed it. I also have natural highlights and its naturally poker straight meaning I don't have to spend hours straightening it. But sometimes my hair is affected by the weather and so on. There are loads of factors that contribute to my hair becoming an absolute mess, most of which are my own doing! I wash my hair more or less everyday because it gets greasy really quickly (I don't bother when I'm not going out, but it still gets washed at least 5 times a week), I like to brush my hair a lot and I play with my hair all the time too. Uh oh! As a result the ends of my hair can become quite dry and I have a few of the dreaded split ends.
Due to blogging, my former attitude to hair has completely changed. Before I had no interest in doing anything to my hair other than wash it but know I'm absorbed into the world of serums, masks and conditioners. I condition my hair a few times during the week and I also use the Aussie Miracle Hair Insurance leave-in conditioner (review here) and Aussie 3 Minute Miracle Reconstructor once a week to give my hair some much needed TLC. 3 Minute Miracle leaves my hair feeling so soft and lovely! On a night I lather 2-4 pumps of the Avon Advance Techniques Dry Ends serum (review here) on the ends and leave it to work its magic during the night. I usually use it 2-3 times a week and I don't us it during the day because my hair is really thin and it feels really awful with it on so I only use it at night.
What products do you swear by for giving your hair some TLC?

FIND ME ON:
Twitter | Instagram: @katiebaby_