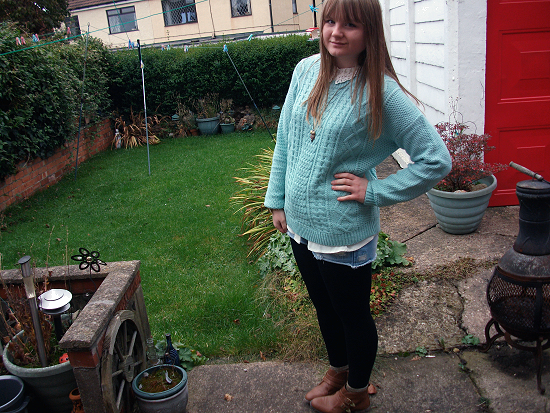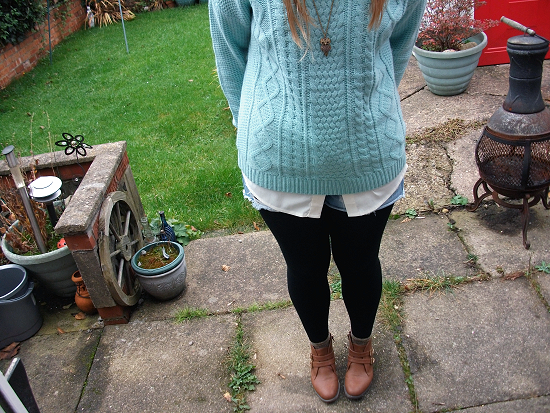 Jumper / Primark
Shirt (underneath) / George @ Asda
Shorts / New Look (old)
Boots / Matalan
Glittery socks / Topshop
Necklace / New Look (old)
I'm on an outfit post roll here! I hardly get the chance to do any because I'm either at work or slumming it at home in my pjs. It's not that often that I'm wearing an OKish outfit and have time to take photos, but here's another one for you!
I wore this yesterday when I popped into town with Anna. We went shopping for a bit and went to Starbucks for a drink and a cheese and marmite panini. We also popped into the new Topshop in Leeds which has just re-opened after knocking the old one down and re-building it exactly where it was before, only bigger. Kinda pointless but the new store is amazing. I bought 3 pairs of the frilly socks to go with my boots now I've got into the socks-over-tights trend.
I got the jumper from the Primark in Liverpool and I love the little elbow patches it has, cute! I've had the shorts since March and they're getting pretty big on me now so I'm trying to get as much wear out of them as I can before they get ridiculous big. You're probably bored of me mentioning my Matalan boots but I've hardly worn anything else!

FIND ME ON:
Twitter | Instagram: @katiebaby_