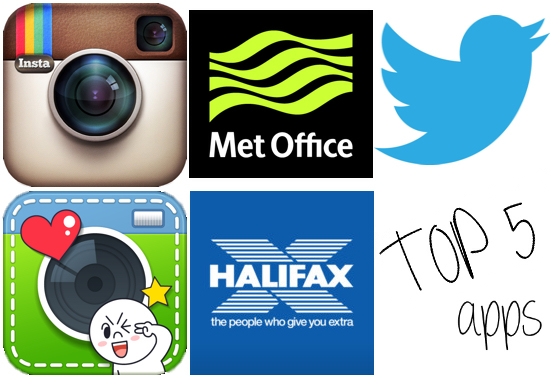 L-R | Instagram, Met Office, Twitter, Line Camera and Halifax
I'm addicted to apps, although I'm tight with my money and only download free ones. I honestly don't see the point in paying for them when you don't have anything physical for your money! I have a few useful ones and then the rest are all novelty! Here are my personal top 5 that I use everyday and that I really rate. Just a quick note; I have an Android phone so I'm not sure if all of these are available for iPhones, but I'm sure they are!
I'm literally addicted to Instagram; it's such a good app. I post a couple of photos a day and I love browsing through other people's photos. The effects are really nice too and they turn ordinary snaps into pretty ones!
This is one of my useful and kinda of boring apps! I'm really odd in the sense that I check the weather EVERYDAY before I go out. Strange I know! This is really good because it locates my exact location (as in the town that I live in) of where I live rather than just giving me the weather for
Leeds
, it gives me a more accurate forecast. Oh dear, I sound so sad!
I remember when I first got into Twitter and Anna said that I'd get hooked on it. I never particularly thought I would but I actually am now! The Twitter app is really easy to use and navigate too.
I've only have this a couple of days but I love it! It's just like Instagram only I kind of prefer the filters on this one! You can also add cute stamps to photos, like love hearts, stars and other cute things! It's very 'kawaii' as the Japanese say, so it isn't as 'arty' as Instagram but it's cute and the stamps etc are optional so it's not mandatory to add hearts and bows to very photo! You can also share the photos to other apps like Instagram so I post photos I've edited on Line Camera to Instagram and Twitter.
My other boring app! It's so handy to use when I'm on the bus or I can't access an ATM to check my balance! It also has features so you can find an ATM or a branch using your location which is really handy.
Katie xo