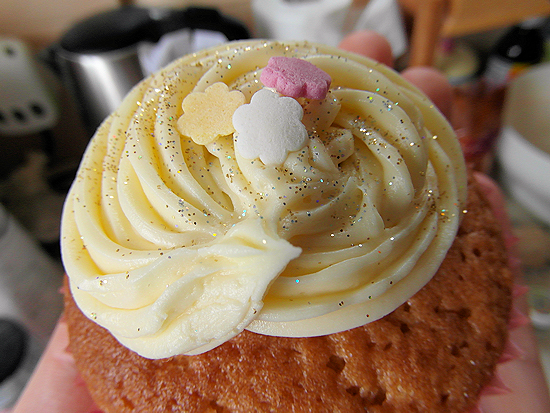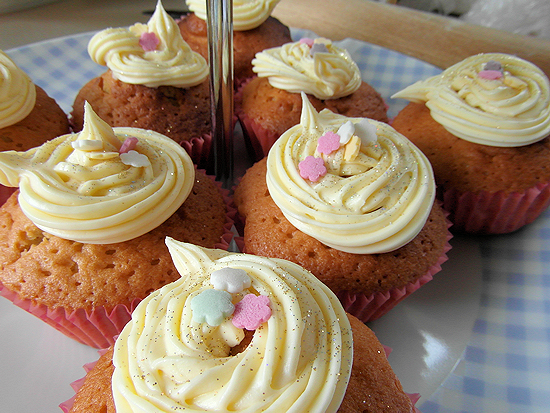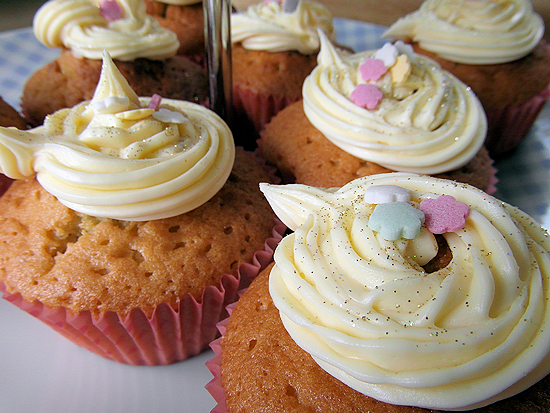 I've been in a real baking mood recently, I baked a cake last week which didn't turn out quite how I wanted, but today me and my mum decided to bake a few bits and pieces! We made these glitter cupcakes, cinnamon and sultana muffins and a russian slice which is my mum's fave! The recipe for my glitter cupcakes is really simple, however the icing and glitter add something special to them! Enjoy!
Ingredients: (Makes 12)
5oz/140g margarine or butter
5oz/140g self raising flour
Few drops of vanilla essence
To decorate:
Buttercream icing (I used Betty Crocker's Buttercream style icing in vanilla)
Sugar flower shapes or any other cute decorations
1. First cream the margarine/butter together with the sugar until it's light and fluffy. You can do this with a mixer or by hand. I did it by hand which works just as well as a mixer!
2. Add the eggs and flour little by little. I personally added an egg, mixed together, added flour, mixed, added an egg and so on. I also sieved the flour in, so it added some air and also stops any nasty bits of flour getting into the mixture.
3. Once the margarine/butter, eggs and flour have been mixed together, add a few drops of vanilla essence and mix.
4. Spoon the mixture into 12 cupcake cases and bake for 20-25 minutes in an oven pre-hated to 180 degrees celsius. You can tell if they're cooked by pressing lightly in the middle of the cupcake and if it springs back, it's nicely cooked!
5. Leave them to completely cool before decorating with buttercream icing. I used a piping bag to add the Buttercream to the top of the cupcakes.
6. Sprinkle with edible glitter. The glitter I used was from Hobbycraft and I was assured it's safe to eat as its non toxic. You wouldn't actually start eating it out from the tub obviously, but it's safe to eat when sprinkled on cupcakes etc and it doesn't do any harm to you at all! Then add any decorative bits you might have! I had these sugar flower shapes kicking around my baking box, so added those!
Katie xo