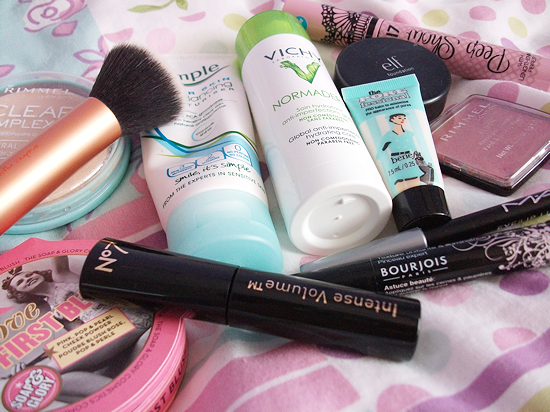 Products: Simple Oil Balancing moisturiser, Vichy Normaderm, Benefit Porefessional, E.L.F Mineral foundation in Fair, Bourjois concealer (possibly discontinued!), Rimmel Clear Complexion powder, Real Techniques Buffing brush, MAC eyeliner, Rimmel blush in Santa Rose, Soap & Glory Love At First Blush, 17 Peep Show mascara and No7 Intense Volume mascara.
I've recently learnt that the whole saying of 'less is more' definitely is the case when it comes to makeup. Now that my skin is better (touchwood!), I can get away with hardly wearing any makeup which I love! Plus I always think it's nicer in the summer to wear less makeup and not to look too 'made up'. Wearing less makeup makes me look even younger than I do normally but I think I look fresher without that much.
I start with applying moisturiser, then I use Vichy Normaderm and finally Benefit Porefessional which I got with Glamour magazine. I don't wear liquid foundation anymore and I love it too! My skin no longer gets that awful sheen that it gets after my foundation has been on for a few hours and I look more fresh faced and personally I feel like I look like I don't have any foundation on at all. The E.L.F Mineral foundation is amazing, the only downside is the tiny pot, I go through it much quicker than I would with a normal bottle of liquid foundation. I use a Bourjois concealer and I'm pretty sure it's been discontinued now! Then I apply Rimmel Clear Complexion powder to my t-zone. I apply my foundation with Real Techniques Buffing Brush which works amazingly well with mineral foundation. I apply my powder with a regular powder puff that I keep with my powder. I sometimes apply blusher, which is either Rimmel blush in 'Santa Rose' or Soap & Glory Love at First Blush. I apply a little eyeliner, but only from the outside to the middle of my eye lid so it makes my lashes look fuller when I apply my mascara. I use 17 Peep Show on my top lashes and No7 Intense Volume to my lower lashes.
This post is scheduled as I'm currently on holiday from 18th - 25th August! All comments will be read when I get back. I will still be on Twitter and Instagram whilst I'm away; Twitter - @hellokatiex | Instagram - @katiebaby_