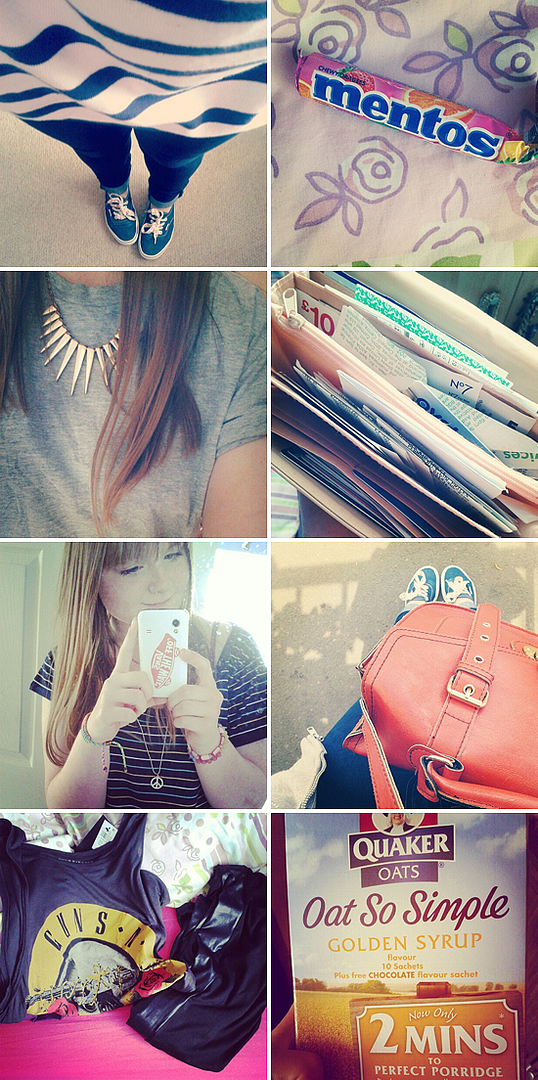 Outfit to run some errands on Monday | I've gone through 5 packets of these this week, they're so addictive! | Found my American Apparel t-shirt I thought I'd lost forever in the ironing basket…Think it's been in there for ages! | My purse is always messy, believe it nor not but I actually only had a fiver in there! | D.I.Y Vans phone cover | Forever waiting for buses | Last Primark purchases before my spending ban | Hated porridge when I was younger but this stuff is amazing!
Hope you're all ok guys! I've not really done anything exciting this week! I went to Primark on Thursday and picked up the Guns N Roses vest and some leggings, but that's the last (fingers crossed) non essential purchase before I go on holiday in just over a month. I'm only going to Scarborough (fave place!) and Whitby on the Yorkshire coast for a week in August, but I always like to have plenty of money to spend whilst I'm there! Also it's a week on Tuesday until my day's work experience at ITV Yorkshire, so excited! I think on Tuesday I will start to get nervous! I'm going to do a post sometime in the week on what to wear too. I have the trousers sorted, just a bit stuck on a choice of tops! So I'd love your opinions please when I post it!
Have a good week guys! I'm off to the pub tonight, the quiz is on but my general knowledge isn't the best so I'm not holding out for a win!
Katie xo