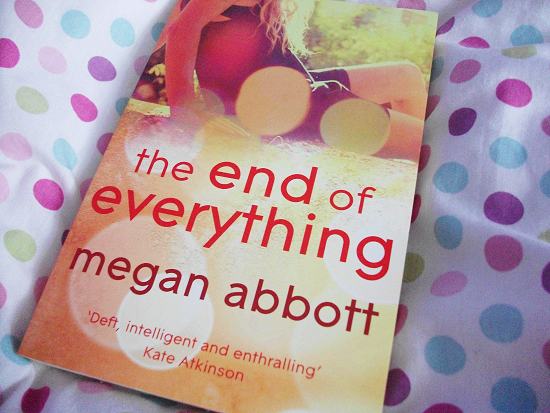 I'm definitely a bookworm; I take after my Dad who is constantly reading a book. I usually read 'chick lit' because it's an easy read and sometimes I like to compare my life to the characters in the book (sad I know!). My favourite ever books are the Harry Potter series, which sounds really cliché but I love them because they remind me of my childhood and my late Granddad.
I bought 'The End of Everything' last summer after reading a few reviews in magazines. It was one of those books that really stood out to me when I read reviews, so out I popped to WHSmith. It took me longer than usual to read it, despite it only having 246 pages, so I was reading it on-off for about 5/6 months.
The book itself it written from the view of thirteen year-old Lizzie Hood, who is a typical naive thirteen year-old who spends all of her spare time with her best friend and next door neighbour, Evie Verver. That's until one afternoon when Evie disappears and the only clue is the maroon car Lizzie and Evie spotted driving past them earlier in the day. Lizzie takes it upon herself to try and uncover the truth of Evie's whereabouts and in the process builds up a strong relationship with Evie's shell-shocked farther, Mr Verver.
I really enjoyed the book, it did take me a while to read, which is because of the style of writing Abbott has chosen. I can't really describe it apart from it being 'unusual', but I think it adds to the charm of the book and how it represents a coming of age novel with the naivety, confusion and durability teenagers are faced with.
I wanted to read something that was kind of in between 'chick lit' and something really heavy, like a crime novel, because I wanted to challenge myself a bit more. So if you're after something like I wanted then this is definitely a read! It has lots of twists and turns, so it does keep you hooked, although I did read it on and off because of the style of writing, but I'm sure it's something other people will have probably come across before! On the whole I did really enjoy it and I am going to be purchasing her new book, 'Dare Me'!