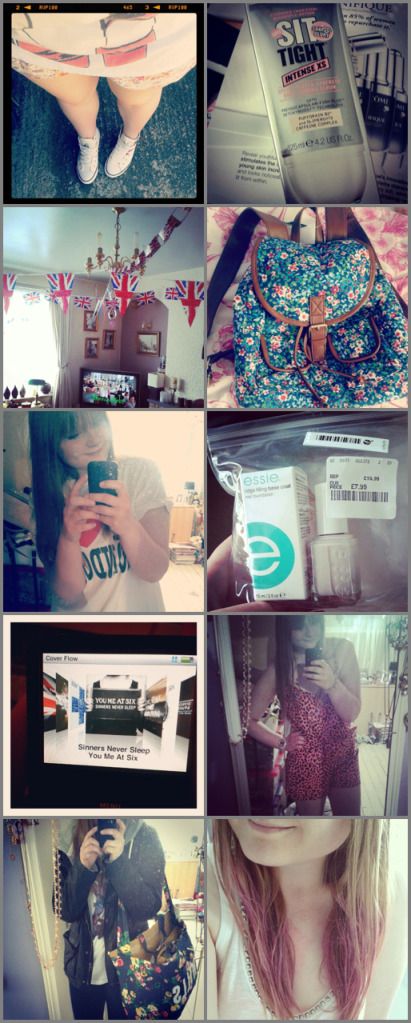 Went without tights for the time in ages (didn't actually venture out of my garden though!) | This stuff is amazing and smells so nice | My Mum went a bit OTT in the living room for the Jubilee | Cutest backpack ever (George at Asda - £12) | Venturing out for a walk with Anna | This is why I love TK Maxx! Essie polish is 'Sand Tropez' | I have this album on repeat, so good | New PJs and fat legs | Sent off a load of stuff I put on Ebay, the woman in the post office did give me a mucky look! | Bought some spray in colour on Thursday. Washes out really easily but does make your hair feel really dry!
I've collected a few photos from the past few weeks since I haven't done an update in a month (!!!). That's due to stuff I've already mentioned in a couple of posts ago but I'm back to blogging again. I ventured into TK Maxx yesterday and bought this Essie set for a bargain £7.99! They had a few colours, including a red, bright pink and a lilac but I have most of those colours already and not neutral beige, so I decided to get the set with 'Sand Tropez' in. It also comes with a basecoat which is cool too and they both work out at £4 each which is a total steal! I also got a body brush to use with Sit Tight and all the other body stuff I've bought recently. I never bother with body moisturisers or stuff like that (is that shameful to admit?), usually just the Garnier Summer body in the summer and that's it. But in the past month or so I've bought loads of body stuff in the aim of getting my 'dream body'. I've nearly lost 2 stone in the past 8 months and this has made me super aware of my body and how it's changing and I decide I should take a bit more care of it. Whether any of this stuff works I don't know, but hopefully I will notice a difference!
Also Happy Father's Day to my lovely Dad! He's had to put up with a lot from me in the past 6 years or so, but he's always stuck by me and shown me unconditional love. Love you lots Dad!
Hope you have a lovely week guys!
Katie xo