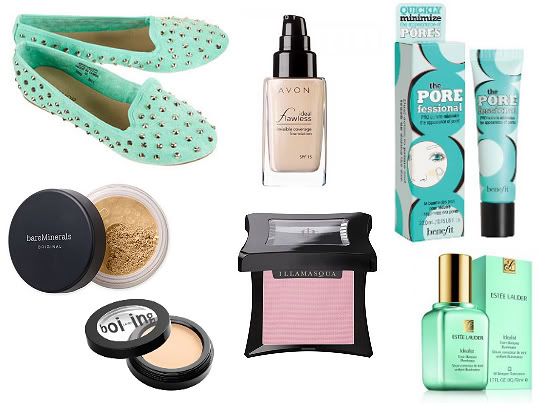 I hardly ever do wish lists because when I do I never get round to actually getting what I want! I'm determined to get everything on my list at some point of my life though! I have a notebook by my bed that I use to write stuff that I want so I don't forget! So here's some of the things I want!
Topshop Vectra4 canvas studded slippers Everyone has these shoes and I want some so bad! I love the new mint green versions, so cute! I'm not sure if I can splash out £28 for them though, some people may think it's a reasonable price but I personally think it's a tad overpriced!
Avon Ideal Flawless Invisible Coverage foundation I've wanted to try this ever since it came out because they seem to have a nice pale shade (light pink) that hopefully will be a good match for me! I've heard it's pretty good too, so I'm hoping to try it soon!
Benefit The Porefessional primer I've heard really good reviews on this too and my friend has just got a job at a Benefit makeup counter (so jealous it's unbelievable!) so I'm hoping to go and see her and get her to try and persuade be to spend £23.50 on it!
bareMinerals SPF 15 Original foundation I'm hoping that when my skin gets better I can give this a go. I really want to wear less makeupo and have that 'I'm wearing makeup but you can hardly tell' kinda look, especially in the summer.
Benefit Boi-ing concealer Industiral strength concealer? Not sure if that's something you want to hear when you're putting this on your face, but I want a heavier concealer for days when I have massive dark circles under my eyes which is becoming more common.
Illamasqua powder blush in 'Katie' I think it's pretty obvious why I want this blusher! The colour is really nice too, to be honest, I'd probably still want to buy it even if it was a colour I wouldn't ever wear. I really like 'Unrequited' too.