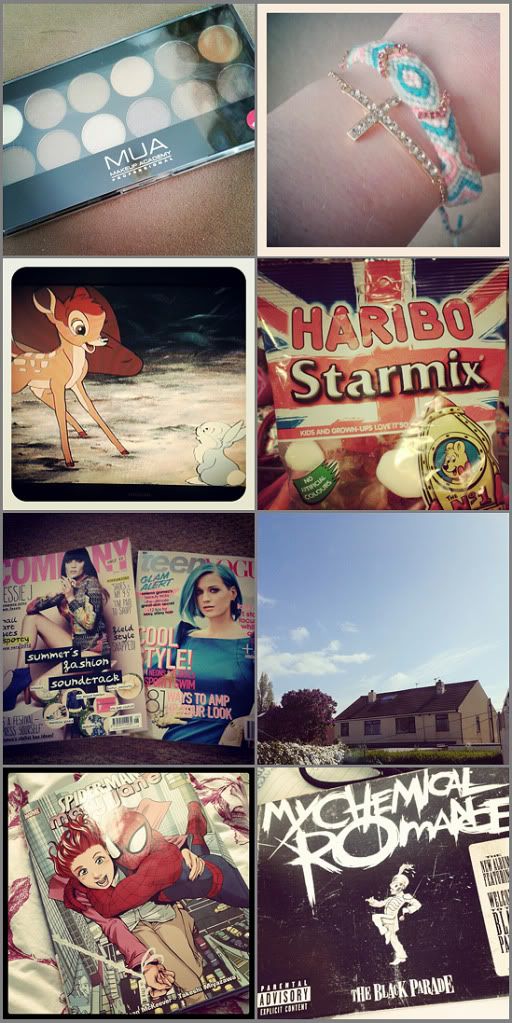 Finally bought this after I decided to get it online because I can't find a Superdrug near me that stock it! | Love New Look jewellery | Still watching Disney classics at 22! | Yummm | Bought these on Friday | Woke up to a lovely sunny day today | Started re-reading Spiderman Loves Mary-Jane, I feel like I'm 17 again | Forgotten how good this album is.
I hate doing late Sunday Updates (becoming more and more frequent!), I try not to let them become late but if there are it's because I've been out all day Sunday and haven't had time to put it together before I go out. I've had such a good week and I'll probably I'll ramble on a bit, I apologise now!
Last Saturday I stayed over at my boyfriends after work which is nice but I had to go into Leeds city centre at 9pm to get the bus to his and clubs are starting to get busy and there's me walking round in my work uniform and most girls are in short dresses and heels! Awwkward. I decided to treat myself to a little Primark spree on Tuesday, I haven't been to Primark since London and just over a month are ages for me to not go to Primark! I only spent just short of £40, but I did get quite a bit! I went on my own too, I hate shopping on my own but it was pretty fun. Thursday was my boyfriend's birthday so I went to go see him. I bought him a Liverpool shirt and got his surname on the back and his favourite player's number on the back too. He loves it and he's been wearing it non-stop too. I had Friday and Saturday off work, so I decided to go see my Nanna on Friday. I trekked all the way to my Nanna's and it turns out she was out even though she said she'd be in! I ended up going back into town and meeting up with my boyfriend instead and we went shopping for a bit then went to Starbucks, cute! Saturday I stayed over at Dave's again and spent all day Sunday watching rubbish Sunday TV. It's pretty obvious that I've spent the majority of the past week with Dave, he's probably bored of seeing me now!
Hope you have a lovely week dolls!
Katie xo