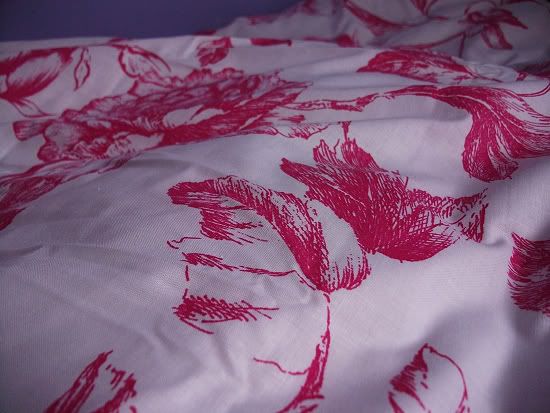 Bit of a random post really! I've seen a few home type posts around and I've wanted to show you my new bedding since I bought it so I thought I'd do a post on it! It's probably the most anti-feminism thing to say, but I personally feel because I'm a girl, I'm naturally homely. I can't wait until I move out, get my own place and put together my dream home. I haven't made concrete plans to move out, I've only thought about it in the sense that I'd love to have my own place at some point. I love my room at home, it's massive and a little part of my house to call my own. I'd love to decorate it but I don't want to spend loads of time and money if I end up moving out in a year or so. So fancy bedding is my way of having a change around of the way my bedroom feels!
Onto the bedding! I bought all the bedding from Asda a few weeks ago. I fell in love with the duvet set, I love the contrast of the pink flowers on the white background! My favourite bit of my new bedding is the amazing pink polka dot fitted sheet and pillowcases! The pillowcases came in a pack of 2 for £2, the fitted sheet in a single is £5 and the duvet set £9 but I got in when it was lowered in price to a fiver. My whole bedding set came in at £12, an absolute bargain! I also love the feeling when you get into bed and you have new bedding on, so comfy and cosy!
Where do you get your bedding from? Let me know!

Katie xo