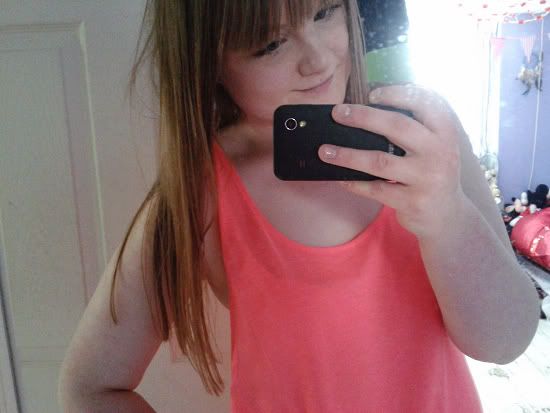 1 –
Afternoon movies
/ 2 –
Neon pink drop arm hole vest from New Look, so cute but so bright!
/ 3 –
Raspberry ice tea from Costa
Sorry for the lack of posts this week guys! I've been busy (kinda!) but I've had no inspiration what so ever, I know that's bad for me to admit, but because of this, I haven't been taking time away from my busyness to do a post. I've had a pretty good week this week! I went for a walk with Anna on Monday, we're going to do the Race For Life this year, which will be our third year! So we decided to get doing some exercise in the form of long walks, like 4/5 miles. It's really nice to go out and explore where we live, I don't often check out where I live that much because I'm either working or going out shopping or just staying in! I also got a free breakfast from Frankie and Benny's on Friday from work, because I'm totes a good colleague! I had pancakes with red berries and icecream, I got the mick taken out of me for that because everyone was sat there with big cooked breakfasts and I'm here with my 'dessert'. Still yummy! There's a Frankie and Benny's literally opposite my work and it was nice of them to pay for us for a breakfast. I did have to get up really early for it though! My One Direction tickets came too! I thought they wouldn't come until closer to the time like normal, but I got them a year early. Hope this year goes quick! I also got Instagram after it FINALLY became available for Android phones. It's got such hype over it and it's basically a mini Photoshop app for your phone, so nothing new but it is a nice gimmick. I'm katiefireworksxo so follow me if you have it!
Have a good week guys!

Katie xo