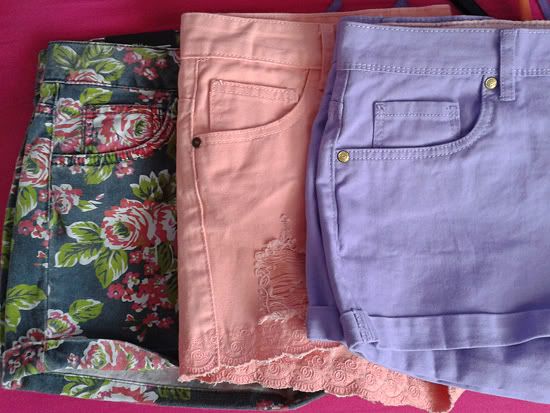 1 –
New additions to my collection of shorts! L-R; New Look, George @ Asda and Primark.
2 – Cute necklace I bought from Topshop in London!
3 – First ever purchase of Topshop makeup I got in London.
Hi guys! Sorry I've been quiet since I got back from London, I've been SO busy. I've basically been out all day on my days off, then working as normal. The update is late (again, so sorry guys!) because yesterday I spent all day sorting my wardrobes out and tidying my room and totally forgot about the Sunday Update. I'm such a bad blogger! I have a couple of haul posts coming up, one with makeup and beauty stuff and one with clothes etc, all that I bought whilst in London! I'm missing London so much, it's awful when I get back, have to unpack then it's back to work and back to reality!
I'm re-designing the blog as well, because I get really bored really quickly! It all stems back to the MySpace days when I'd get bored of my profile page after a few days and was constantly changing HTML around and stuff like that! I've been bored of it for a while, I've just never got round to changing stuff!

Katie xo