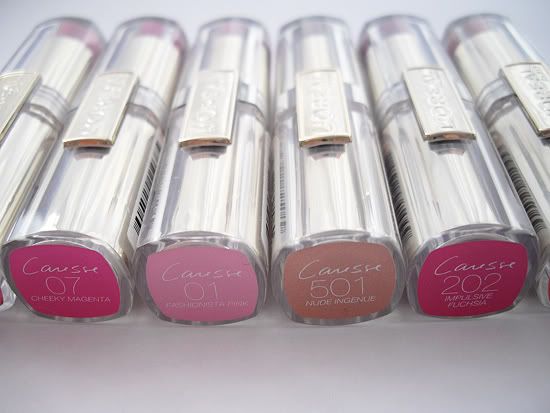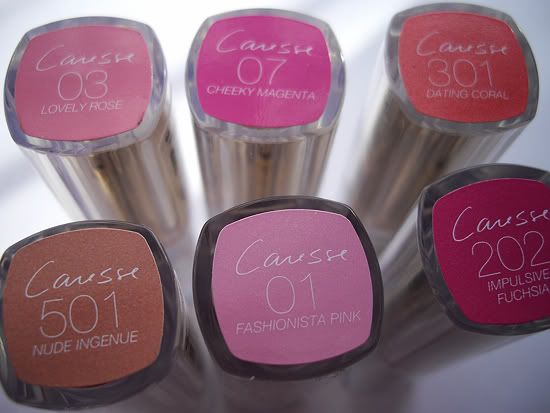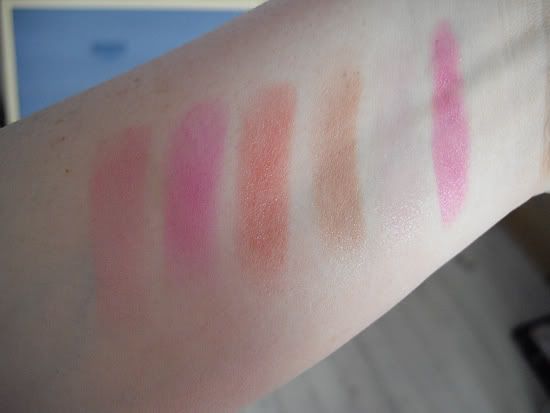 Swatches L-R / 03 Lovely Rose, 07 Cheeky Magenta, 301 Dating Coral, 501 Nude Ingenue, 01 Fashionista Pink, 202 Impulsive Fuchsia.
The L'Oreal Rouge Caresse and the Revlon Lip Butter have both had a bit of hype on the blogosphere, more so the Revlon Lip Butter from what I've seen. The Rouge Caresse appealed to me more purely on the sleeker packaging. I've picked up 6 Rouge Caresse lipsticks so far and there are 10 shades in the collection. I probably won't get the other 4 but only because they aren't really the colour I normally go for. I haven't heard as much hype about these compared to the Lip Butter but they are basically the same concept just different brands. I picked up my first, 03 Lovely Rose just before I went to London with a couple of other makeup things. It retails at £7.99 in both Boots and I think Superdrug (they aren't availably online but I think it was £7.99 when I went in the shop). Both Boots and Superdrug have a 3 for 2 offer on at the moment so you can get 3 of these for the price of 2. Love a bargain!
Onto the actual lippies. I've mentioned before that I'm not a fan of full on lip colour because personally I don't think it suits me. I'd love to wear a bright red lip but it really just doesn't suit me. I tend to like really suitable colours and stains. If I buy a bright colour, I'll just dab it on for a subtle hint of colour. These give a hint of colour with a nice lightweight feel. They have a bit of shine to them, like a mixture of a gloss (but not sticky), with a normal lipstick and also a balm. They feel lovely on my lips and I absolutely love them. I actually bought a Revlon Lip Butter yesterday and I prefer the Rouge Caresse because the packaging is nicer and they feel more lightweight on my lips than the Lip Butters.
Also I changed the layout and theme on my blog on Monday. I hope you like it! It's not a massive change in the sense that I kept the colour scheme more or less the same, but I did a new header, background, introduction image, links along the top which are clickable and a general tidy up to make it look a bit better! I'd love it if you would let me know what you like and dislike!

Katie xo