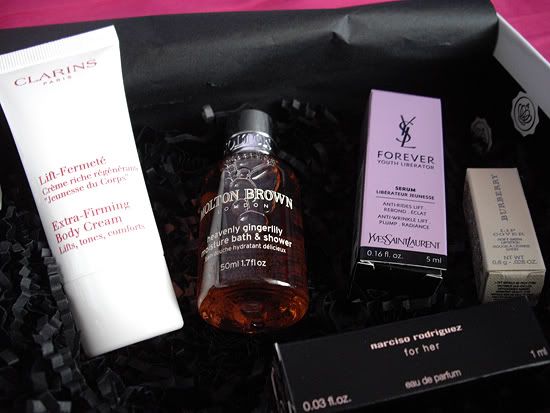 The second part of my haul is all my beauty kind of stuff! I went and got myself my first ever Glossybox after hearing of the limited Harrods edition one. Everyone raves on about how people expect full size stuff in their box and whilst this is pretty cool, I think I'm going to unsubscribe because I personally don't feel that it's worth £13. The majority of the samples are ok sizes for samples, like the Clarins cream and shower gel are both 30ml and 50ml, but the perfume sample is one of those tiny bottle things that you literally get 2/3 sprays out of and are usually given out free in department stores. After seeing some spoiler boxes, I really wanted the YSL Forever serum and the Burberry lipstick, which I got both so I'm a happy bunny! I'm glad I've tried it out but because it was a limited edition one the samples are a little bit better from what I've gathered from posts on other boxes. It's not for me but I'm sure other people get it every month and love it!
L-R / Studio Stippling brush, Mineral Moisturising Lip Tint in Guava, Studio
Corrective Concealer - Erase & Conceal
Made my second ever E.L.F purchase on Thursday night and my stuff arrived on Saturday morning! My first order was quick too, even when I ordered a couple of days before New Years Eve, I got it on N.Y.E even though I thought because it's a busy time I'd have a wait a while! Such good service! I bought the stippling brush after wanting the Real Techniques one. I still think I'll buy the Real Techniques one when I'm in London because I've heard good stuff about it. I haven't actually used any of the stuff I got properly, apart from the lip tint which is lovely and makes my lips really nice and soft. I bought the corrective concealer because I have a bit of uneven skin tone without makeup on and I'm hoping this will sort that out! By the way, the colours of the concealer are a little bit darker than in the photo, I couldn't get a decent photo with a true colour!
What do you think of Glossybox and E.L.F?

Katie xo