Over the past week or so I've acquired quiet a bit of stuff even though I've had a bit of a shopping ban because I was A) skint and B) saving for London. I got paid on Friday so made some purchases! I've got a mixture of clothes and beauty stuff, so I thought I'd spilt them into two posts rather than one really long post! I'll do the clothes and accessories one first!
L-R / London bus top – Primark, Sunglasses – Primark, Butterfly vest – H&M
I got all of these when I went shopping on Monday. The two tops are a perfect fit; I'm really picky on fits of tops. I hate it when they're really long and I hate it when they're too short. Both skim my bum which I love! The sunglasses were a quid from Primark and I'm going to take them to London! I also bought a new pair of black skinny jeans from Primark which I forgot to photograph, but they're just plain black skinnies, nothing exciting!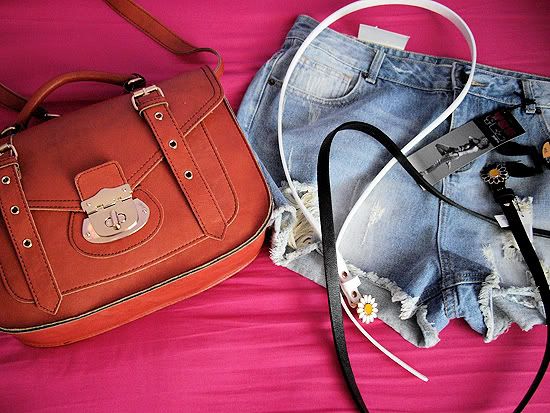 Bag, shorts & belts all New Look
I bought all of these from New Look when I got paid on Friday. I LOVE the bag and it was only £19.99 which isn't bad since it feels really nice quality! I've wanted a new pair of denim shorts, all my others are too big! I love the vintage, 90s feel and my brother is kindly lending me one of his Iron Maiden t-shirts to wear with these in London because I think it'll look really cool! The belts are a two pack, which are on offer at the moment for £3 instead of £4.99. I love daisies and these are perfect to wear with my shorts!
Have you guys bought any new goodies? Let me know!

Katie xo