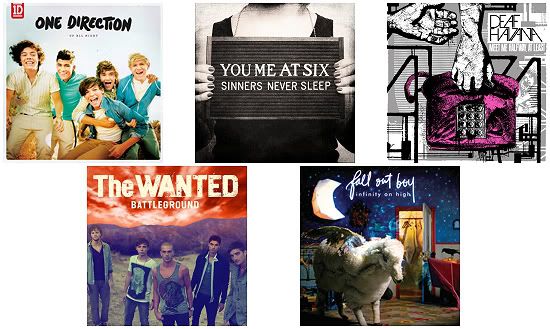 I'm a massive music fan; I have been since I was little! I get it off my parents and because of this, I know loads of stuff from the 60s, 70s, 80s etc. My music taste over the past few years has only changed a bit. When I was
kid going into a teenager it was all about pop, with my favourite band being Busted. I still love them, I cried so much when they split up! When I was around 15/16, I started getting into rock, emo that kind of music that was around at the time. At the time it was all about My Chemical Romance, Panic! At The Disco, Lostprophets and any other band that wrote about sad things. I did get into a load of bands that were not as big at the time that have gone into being bigger bands. That phase is still with me, only when I was 16 the only pop band I'd listen to was Busted and that was it, now I'm more in to pop again! It was more when I was 18 that I started to get into more pop music again and that's carried on! Here are the top 5 albums that I'm currently listening to!
L-R, Top – Bottom
1 – One Direction / Up All Night
I haven't done them really in order, but I suppose it's not surprise that One Direction are first! I can't believe how far these boys have come since the X-Factor. They have made me so proud! The album is mega pop filled and it reminds me of when I was in my Busted days. I don't have a favourite song because I love them all, but I currently love 'Moments' which is on the 'Yearbook Edition' of the album. I have both copies because I'm a mega fan girl!
2 – You Me At Six / Sinners Never Sleep
I got this for Christmas and I have been listening to it not stop since! I've loved these guys since they first came out and their
music style has changed a little from their 'Save it for the bedroom' days but only in the sense that I feel like they've grown up a bit more! I love 'Crash' because it's the one slow song that they do on every album and I always love them! 'Fireworks' from their second album 'Hold Me Down' is one of my favourite songs ever and what I named my blog after!
3 – Deaf Havana / Meet Me Halfway, At Least
I've only been into this band for the past year or so and it's one of a few bands that both me and my brother like. I don't think they get enough credit because they are bloody amazing. My favourite song is '

Nicotine and Alcohol Saved My Life' because it is truly amazing. The last 50 seconds or so is the best ending to a song I've ever ever heard. Whenever it comes on Kerrang! me and my brother are always singing along!
4 – The Wanted / Battleground
Another album I got for Christmas! Typical pop album, but it only has a couple of slow songs and the rest are really upbeat, so it's a great album to listen to if you're in a good mood! 'The Weekend' is such a good song, really makes me feel happy!
5 – Fall Out Boy / Infinity On High
Infinity On High is quite an oldish album, it's been out since 2007, but it brings back so many memories of when I was at Sixth Form! My favourite album is actually 'From Under the Cork Tree' but I haven't listen to Infinity on High as much, so that's why I've been listening to it a lot!
What are your
favourite
albums?
Katie xo