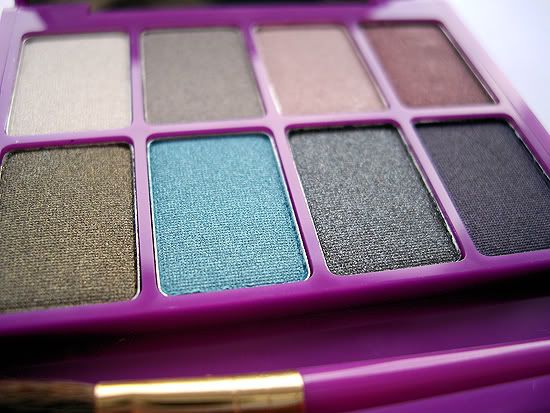 I shouldn't really do a review of this Hello Kitty/Liberty eyeshadow compact because it was only available from Boots as part of the Christmas gifts that they do! I've had a look on EBay and there are a few bits from the Christmas collection available to buy,
this one is pretty cheapish to buy
!
I got it for Christmas from my parents, but I actually went into store to buy it. It was £8, so if anyone is lucky enough to get the one I linked from EBay, you'll be saving yourself £1.50ish. I hadn't used it when I took the photos, but I knew I wanted to mention it on here. The thing that drew me to it initially is the mega cute packaging! I love Hello Kitty so I jumped at the opportunity to get this! The compact is a good quality, it feels nice to hold (if that makes sense?) and comes with a mini brush which is good quality. I was chuffed when I opened it and it had a brush in instead of one of those rubbish sponge things. I don't actually use the brush, I use another eyeshadow brush that's a bit bigger but it's nice to have it there if I want to use it. It also has a mirror in which has a cute hello kitty at the bottom right hand corner. The eye shadows are really soft and easily blend able. The top row is more day time and the bottom is more night time, but of course you can mix them up. My favourite is the 3rd one in on the top row; it's a lovely pearly nude that I like to wear during the day. I'm really into eye shadow palettes at the moment because you can have loads of colours in one handy palette. When I get paid I'm going to try and get my hands on MUA's Heaven and Earth palette because it's like the Naked 1 and 2 palettes without the ridiculous price!

Katie xo