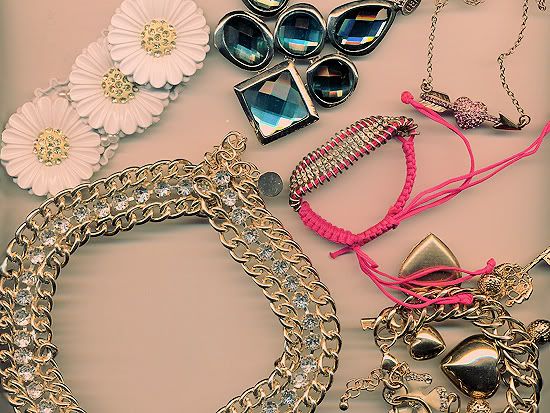 You may be thinking that the photo looks a little different to how I normally take photos, but that's because I decided to change the way I take photos of products for this one post. I used a good old scanner to get an image of my current favourite items of jewellery. I'm not the most creative and imaginative person ever, but one day I had the idea of showing you what pieces of jewellery I love and using a scanner just popped into my head as the perfect way of getting an image. I edited the colours and stuff, to make it look less like it was taken in a scanner and here it is! I'm quite chuffed with this actually, using a scanner is just as good as an expensive camera because it takes such a HD image it's unbelievable!
L-R, Top – Bottom
/
Daisy bracelet – Primark, Blue gem necklace – ASOS (gifted), Pink heart & arrow necklace – New Look, Chain and diamond necklace – Primark, Neon pink friendship bracelet – Primark, Gold charm bracelet - Peacocks.
Anyway, back to the jewellery! Some of the stuff looks really OTT, but I wear it with a plain top so it really stands out and doesn't look too over the top. I ALWAYS wear jewellery, I hate not wearing anything, not that it often happens! I always rotate what necklace I wear and sometimes I'm always asked what necklace I have on today because they always change! Most of my jewellery collection is just made up of high street stuff; Primark is the absolute best for jewellery. The most expensive bits I have are probably some Disney Couture things I have but I always get those for my birthday or for Christmas. Everything pictured here is pretty old I'm afraid, apart from the heart and arrow necklace which is from about December last year! I've had the blue gem necklace since my 18th birthday, so it'll be 5 years old in March!
Katie xo