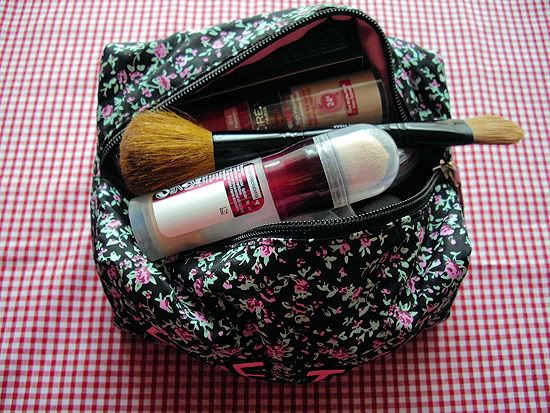 I've wanted to do one of these posts for ages but I've never got round to doing one. Everyone likes to have a nosey at what make up other bloggers use on a regular basis, it's a great way of learning about new products and products that you've wanted to try for ages but never have. I don't use every bit of make up featured everyday because I've been trying to rotate what I use everyday so I get to try something new rather than sticking to the same product everyday. I won't go into detail with every product, but I will mention some of my fave things! The make up bag is from Primark which was about £2.50 I think, but I've had it ages! It says 'Pretty' on the side, which I'm not that keen on but I like the flowery print and it's a really good size to hold all of my stuff!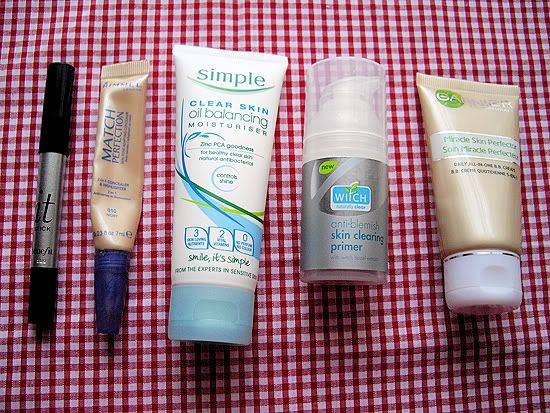 Face 1 L-R / Benefit It Stick, Rimmel Match Perfect concealer in 010 Ivory, Simple Oil Balancing moisturiser, Witch Skin Clearing primer, Garnier B.B Cream in Light.
I use all of this stuff to prepare my skin for when I put my foundation and powder on top. I actually put concealer on after foundation but I stuck it with the stuff I use before foundation for some reason and didn't realise until I'd taken the photo! Ooops. Some people use just B.B cream on it's own without foundation (lucky people!) but my skin is really awful at the moment, so I use it just to even redness out before I put foundation on.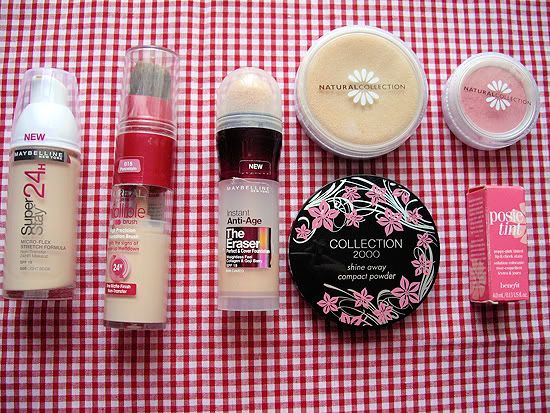 Face 2 L-R / Maybelline Super Stay 24H in 005 Light Beige, L'Oreal Infallible brush in015 Porcelain, Maybelline The Eraser in 020 Cameo, Natural Collection powder in Neutral, Collection 200 Shine Away powder in 1 Light, Natural Collection blusher in Pink Cloud, Benefit PosieTint.
I'll rotate what foundation I use because I love them all and sometimes it's nice to have a change! The PosieTint was free in Glamour magazine agessss ago and I absolutely love it, it's the nicest pink ever. I'm thinking about buying a full size, but it's £24.50 for 12ml and I'm not sure if I can bring myself to spend just under £25 on a nail varnish size bottle!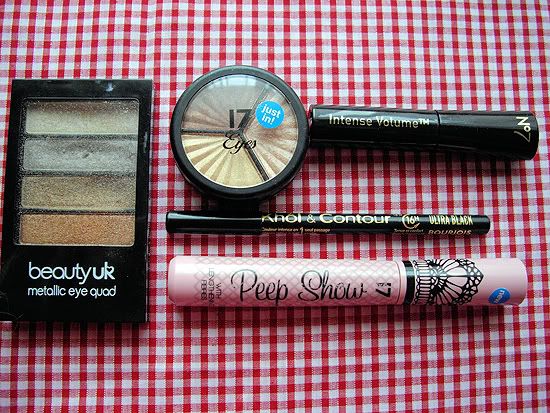 Eyes L-R / Beauty UK Metallic eye quad in No1, 17 eye trio in Enraged, No7 Intense Volume mascara, Bourjois Khol & Contour eyeliner, 17 Peep Show mascara.
It took me a while to find the perfect eyeliner, one that didn't drag on my skin and one that didn't look grey when I put it on over a bit of powder on my eyelids. This one is the best I've ever used; I've been using it for years now. I only recently bought this mascara but it's amazing!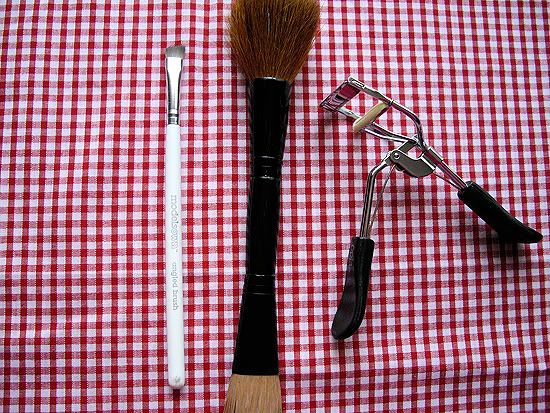 Accessories L-R / Models Own angled brush, H&M double ended brush, Primark eyelash curlers.
I use the Models Own brush to put a line of eyeshadow on my top lid. I don't often put eyeshadow on my entire eyelid any more; it's much quicker to just do a line of it! The H&M brush was about £1.99 I think and it's perfect for saving space in my makeup bag, I have my powder brush and foundation brush all in one!
Don't forget you can follow me on Twitter!
Katie xo