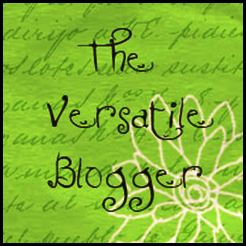 Hi guys! Hope you're all well! A couple of days before Christmas, Mona from
Chipped Nails and Chapped Lips
contacted me to let me know she's passed on the Versatile Blogger Award to me! Mega exciting! I've literally only had chance to post about it now, what with Christmas. New Years and work in between. So massive thanks to Mona, who put a smile on my face before I faced a long day at work.
There's some rules for the award, here they are;
1. You must thank the person who awarded you the award including a shout-out with a link on your blog.
2. Share 7 random facts about yourself.
3. Send the award on to 15 other bloggers whose blogs you like to read and let them know about it.
So here's my seven facts (sorry if they're boring, I'm not the most interesting person!);
1. I have a twin brother who's two minutes older than me. I use this as an 'interesting fact' for loads of things and it's not the most interesting thing ever but I do always get an "Oh I didn't realise you're a twin!" kind of response. It's pretty cool because we get to share a birthday and we got to start high school together in the same form so we had someone to talk to so it wasn't as scary. We share some similar friends, although we have separate groups from work and stuff.
2. The majority of my wage gets spent on magazines every month. I buy around 4-5 weekly ones and basically all monthly ones. I went through a stage of keeping them all, until I had a massive pile that was in danger of collapsing in my room, so I've had a few clear outs in the past few months, which was really painful at first but I'm getting used to now. Kind of.
3. I'd been debating whether to do a blog for well over a year before I took the plunge and created one. It's probably one of the best decisions I've ever made because I'm so addicted to it and I've met some really lovely people!
4. My favourite band of all time is One Direction (in case you didn't already know that…), but a lot of people are surprised to know that some of my fave bands include My Chemical Romance, A Day To Remember, Deaf Havana, You Me At Six, All Time Low… the list goes on. I often get "you don't look like you'd like MCR" and stuff, mainly because I've grown out of the stage of wearing black all the time, loads of eyeliner and wearing nothing but Converse with skinny jeans. My music taste is pretty diverse, but my faves are definitely rock and pop!
5. I'm just under a thousand Boots Advantage Card points away from £100 to spend. I'm not sure why this is a random fact, it's definitely random though! I've never spent any of my points; I've just been saving them for saving them sake. Once I get to £100, I'm planning on buying some perfume and loads of makeup with it.
6. I once had a letter published in the letters page in Grazia magazine. I'd written in about an article in the previous weeks' issue that I could relate to. I was really proud and I didn't expect it to be printed so it was definitely an 'OMG OMG' moment when I saw my letter.
7. I walked past You Me At Six once in Leeds and I was way too star struck to say hi. Biggest mistake ever.
Here are some of my favourite blogs and bloggers!