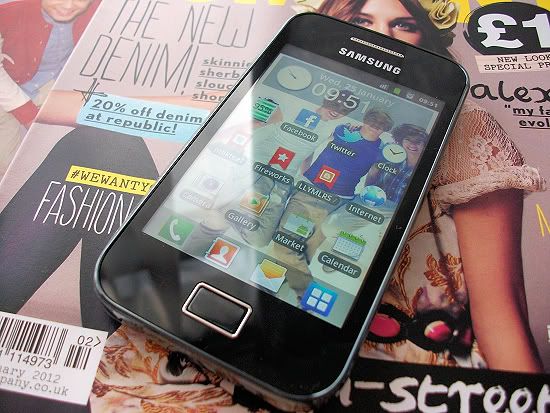 I got a new phone guys! I mentioned in my last post how I've gone from a BlackBerry to a Samsung! I absolutely love it! My Dad has the same phone and I secretly wanted to steal his, until I decided to bite the bullet and buy my own. It looks like an iPhone which I'm sure you've noticed; only I have a love/hate relationship with Apple, since my iPod has died and come back to life on me so many times. So I really didn't want to take a risk and get an iPhone, so this is my alternative. I have to get used to it being touch screen and it's taking me a bit longer to text, where as on a BlackBerry I could write an essay practically in a minute.
I also mentioned in my last post how I had to format my USB pen, which meant I had to loose all of my stuff! I've managed to get more or less it all back because most of the stuff I had elsewhere and thankfully I had the 700+ One Direction photos I've collected over the past year on another USB pen so they're all safe! Major fan girl!
I'm going to post some fashiony kind of stuff at some point, I apologise if you're disappointed to have not seen any yet! I'm in a bit of a situation at the minute with clothes because since around October I've been on a diet and I've lost nearly a stone since then. I've managed to get into some things I've bought which didn't fit me at the time which is great, but some stuff I love is getting ridiculously big on me! I'm going on a massive shopping spree before London to get some nice clothes to take, but until then I'm too poor to buy basically a new wardrobe :(
Hope you're having a nice week so far guys!

Katie xo