Two posts in one day! I've been planning this post since just after Christmas because I've recently endured a beauty binge since just after Christmas. I don't often buy loads of makeup, I only tend to buy stuff I need like new foundation and powder when I run out. I'll buy a new lipstick or eyeshadow every now and then, but I try to keep non essentials to a minimum otherwise I'll spend LOADS. I've always loved makeup, but in the past month or so I've gone beauty mad and I've been checking out beauty blogs more than fashion ones, when it's usually the other way round.
After Christmas I bought a few things from E.L.F, which is a brand that I've been dying to buy something from for ages but I never got round to. I bought most of the products mentioned in this post bar two.
E.L.F Mineral Foundation in Fair
The mineral foundation is not as good as I was hoping, but I still like it. The pot is smaller than I expected and the coverage isn't as good as I hoped. I thought the coverage might be more buildable than I've found and it doesn't cover up any redness. My skin has been really bad since about March, so I'm hoping when my skin finally stops acting like a teenagers', I'll be able to use this a bit more.
E.L.F Kabuki Brush (Face)
I've been after a kabuki brush for ages and this one is a steal at £3.50. The handle is metal, so it feels a nice quality. The only let down for me if that it sheds so much! I literally only have to grab it lightly and pull and quite a lot of bristles come out. It's nice and cheap, so I'm not too bothered if I have to buy another one in six months time!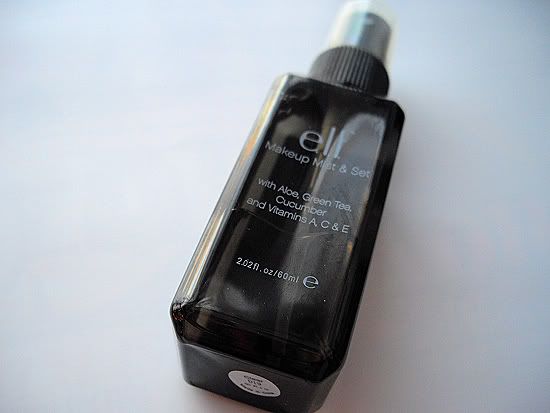 E.L.F Studio Makeup Mist & Set
I was really happy when I bought the Studio Makeup Mist & Set because it's currently part of the sale and has 30% off, making it a mega cheap buy at £2.45. I hope this doesn't mean they're discontinuing it because I love it! I can't think of a good way to describe it apart from it does what it says on the tin; it sets my makeup. I use it once I've applied all of my makeup and it gets rid of any powderyness and adds a dewy finish.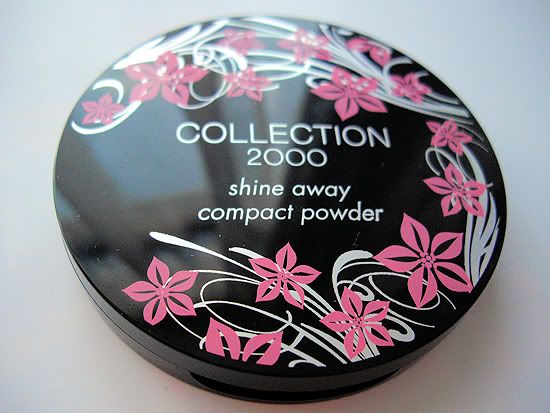 Collection 2000 Shine Away compact powder in Light
I saw this Collection 2000 powder at work, but I had to buy it from Boots because they only had one of my shade and someone lovingly decided to try a bit. Nice. It comes in 3 shades, Light, Medium and Deep and I bought Light. The thing that attracted me to it is that it states that it controls shine up for up to 10 hours and minimises breakouts. I've been using it for just under a week and it's definitely one of my favourite products at the moment. I go through powder really quickly, so I usually buy a Natural Collection powder that's £1.99, but I constantly have to blot my face during the day. I've yet to do this with the Collection 2000 powder, even when I've had my makeup on from 1pm to 10pm when I've been at work. My face isn't completely shine free and matte like it is when I first put my makeup on, but it is definitely more shine free than usual.
17 Peep Show mascara in Black
I'm a big fan of 17 mascaras and the one I used to buy has been discontinued I think because I can't find it anymore! I can't remember the name but I think it had something with volume in?! I'm really gutted because it was one of the first ones with a plastic comb type of brush and it really separated my lashes. Since when I've been using the odd one that I've bought to try and fill the void that my other mascara has left and I saw this new one from 17 again. It one of ones that supposedly creates a 'false lashes' effect. It has fibres in, which is pretty cool and it doesn't create the false lash effect that I was hoping, but it doesn't clump and leaves my lashes nicely separated with volume.
Simple Clear Skin Oil Balancing moisturiser
I've wanted a new moisturiser for a while, the one I'm currently using is a Boots tea tree and witch hazel one that is a bit watery and can sometimes make my skin sting. I sometimes sneak a bit of my mum's Simple light moisturiser when my skin is feeling super sensitive and it really helps sooth the areas that are sensitive (which is usually my cheeks). I bought this one from Boots after I was looking for an oil free one. It's oil free and helps control shine which is good for me because I have the worst oily T-Zone ever! I can only tell if a moisturiser is good when it's sunk into my skin, I usually hate it if it's left an oily residue and love it if it's nicely sunk in and left my skin really soft. It does exactly this and it also leaves my skin looking nice and matte.
What products are you loving at the moment? Let me know!
Katie xo