Sorry for not posting since Sunday, the last week before Christmas has been pretty crazy! Here's a list of the things that I so desperately want in my life! I'm hoping that in the next couple of months I'll own all of these beauties!
E.L.F Cosmestics
I've heard of E.L.F for absolutely ages, but I've never actually bought anything from the website. The prices are really cheap, just for some reason I've never got round to buying anything. I've seen loads of bloggers give reviews on E.L.F and I'm getting the general impression that it's a really good brand! Over the past few months I've seen a few bits and bobs that I've mentally added in my 'what I'll get chance to buy at some point in my life' list. Here's a list of the products that I want!
- Mineral Blemish Kit / £6.00
- Kabuki Brush (Face) / £3.50
- Mineral Foundation (Fair) / £3.50
- Total Face Brush / £1.50
- Studio Makeup Must & Set / £3.50
Also, what do people think of mineral foundation? I've wanted to try it for ages, but I've only ever seen expensive ones and I hate spending loads on a product that I end up hating! What's the coverage like? I usually have a medium/heavy coverage because I have some freckles, redness and spots that I like to cover, but mineral is supposed to be better for skin. I'd appreciate it if anyone uses a mineral foundation and would fill me in!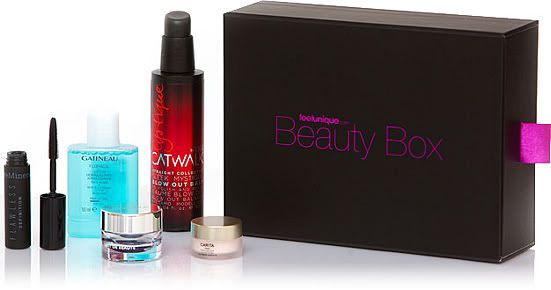 Feel Unique Beauty Box / £9.95 per month
EVERYONE and I mean everyone (or at least bloggers!) seem to get some form of a beauty box, whether it's Feel Unique,

Boudoir Privé or GlossyBox. I'm more attracted to the Feel Unique one for some reason, I'm not sure why! I don't really buy high end products, because I've spent so much money in the past on high end stuff that I don't use anymore because it isn't for me. For just under a tenner you get some pretty good samples and not the rubbish sachet things you get stuck in magazines and have absolutely no product in them!
Harry Potter Hardback Box Set
I'm a MASSIVE Harry Potter fan, I have been since I was first given The Philosopher's Stone when I was seven. I have all the books, just because they've been shared between me and my Dad (the two HP fans in my house!) they've become a bit tatty. I've tried to keep them in as good condition as possible because I hate seeing books become tatty. I have the first three books in paperback, the rest in hardback and I've wanted the full set in hardback for a while now. It's mega expensive but as a fan I feel like I should bite the bullet!
Hope you guys all have a good Christmas! I have a post lined up for Christmas Eve, so make sure you have a nosey on Christmas Eve if you're not too busy doing last minute stuff or eating mince pies!
Katie xo