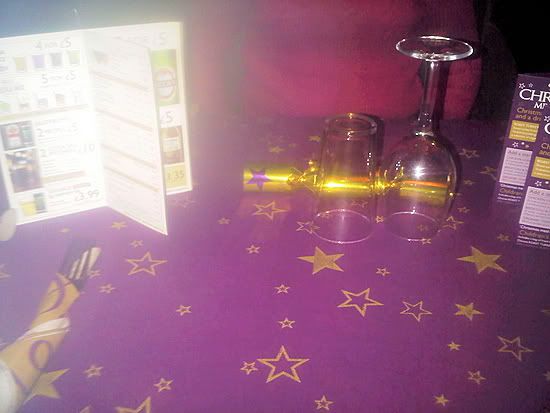 1 -
My amazing wedges I bought, so easy to walk in!
2 -
The cute table setting in Wetherspoons for mine and Anna's Christmas meal
3 -
Rimmel glitter polish in 500 - Disco Ball
A short and sweet Sunday Update this week guys! Hope you're all well! Two weeks today till Christmas Day, how fast is it going? It's crazy!
How amazing are these shoes? I got them from George at Asda for £16, but got them for £8.90 after I got staff discount off and some money I had left on a gift card. What a bargain! I absolutely love them and HAD to get them when I saw them! They're so easier to walk in as well! On Monday me and Anna went to Wetherspoons for a Christmas meal, it was so nice! It was really cute as well because they gave us a really nice table in a corner and set the table really nice. The girl who served us was so friendly and even got us drinks all night, when normally you go to the bar yourself in Wetherspoons. We even got crackers as well! The quality of the photo from my meal is terrible because I only just realised after that I've left the sticker thing they put on my screen from when I got my phone repaired, so it's made some of my photos a bit dodgy quality! I bought this Rimmel nail polish (500 Disco Ball) in Boots on Saturday after it really caught my eye a couple of days before hand. There was one left and I thought it might have been bought when I went back on Saturday, but thankfully it hadn't! I'm really after OPI's Rainbow Connection because that has to be the king of all glitter polishes! Not sure I can pay over £10 for a tiny bottle though!
Had plans today but they got cancelled, which I'm gutted about! So I spent the day watching nice Christmas movies, wrapping Christmas presents and using my Dad's phone minutes because I've nearly used all my 600 and I'm only half way through the month! Oops! Watched the X Factor final like the rest of the UK, so glad Little Mix won! Didn't have a fave this year at all, I really liked Jade but she didn't even get through to the live shows! But I thought it was really nice that a group won for the first time. Little Mix are mega cute and I hope they do well! Loved their personalised jumpers when they performed 'Silent Night', my Mum said she'd make me my own with my name in sequins, so hopefully she will! Just about got this weeks update done before midnight, will do it earlier next week! Have a good one guys!
Katie xo