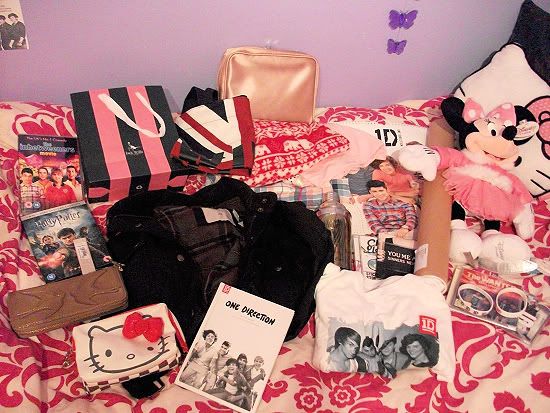 Have you all had a good Christmas guys? Mine's been pretty good! Stuffed my face beyond belief and I have a massive gift bag filled with chocolate that I've accumulated over the past couple of days! I'm not sure how long that'll take me to get through! I spent Christmas day opening presents, eating and watching films with the family, which is what I love about Christmas! Boxing Day my aunt, uncle, nanna and granddad came up where I got more presents! I've been spoilt so much this year! It was definitely a One Direction Christmas since I got a One Direction calendar, wristbands x2, Up All Night Yearbook Edition album, t-shirt and a poster from Universal Poster which is amazing (and expensive!) because it's signed and has a message, which isn't physically signed by them, but the message and the signature is a replica of their handwriting and signature. AMAZING! I got everything I asked for, including my Jack Wills union jack bag, which I hinted to my brother for and he even kept it in the amazing bags they put stuff in at Jack Wills. I got the usual stuff, pjs, perfume, bath stuff, CDs, DVDs, things like that, but I absolutely adore all of my presents!
What did you guys get? I hope Santa brought you everything you wanted!
p.s Sorry the blog title is a little depressing, I've been listening to A Day To Remember a lot recently and I forgotten how amazing they are!