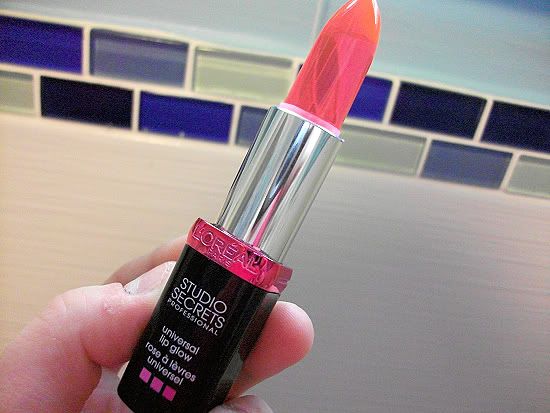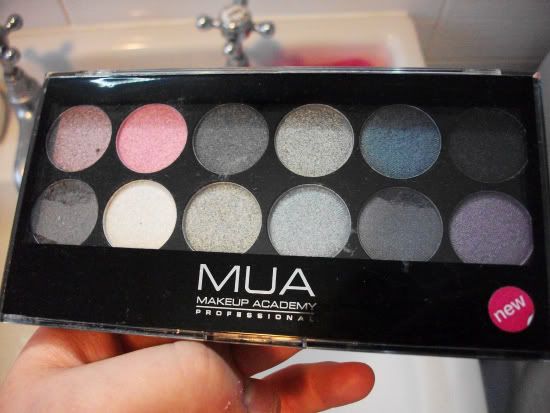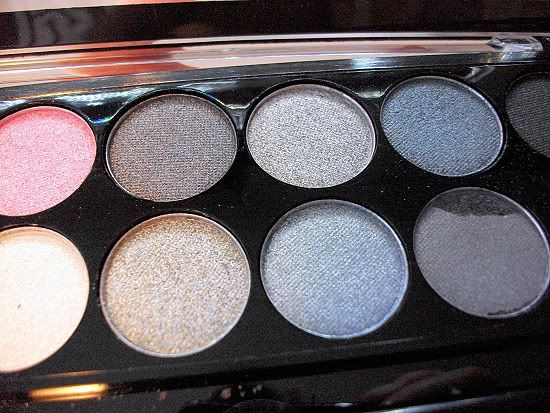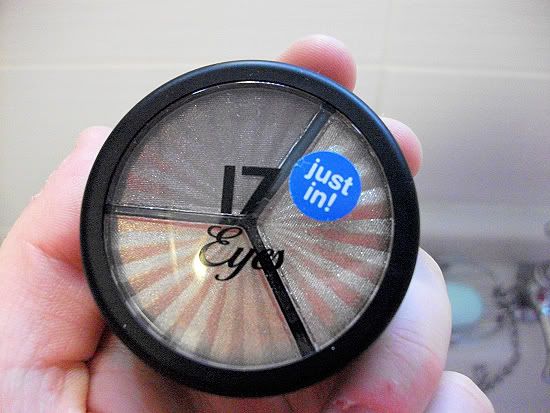 1 -
L'Oreal Paris Studio Secrets Lip Glow
| 2&3 -
MUA Professional eye palette in 'Starry Night'
|

4&5 -
Boots 17 eye shadow trio in 'Enraged'
| 6 -

Bronze bow glitter pumps, Primark
Every month I'll be doing a post on my favourite things that I'm currently obsessed with. Each monthly favourite will feature anything that I'm currently loving, whether its clothes, accessories, makeup or food!
1 – I've been after one of these types of lipstick/lip balm after seeing a few higher end versions around. I don't really suit full on colour that most lipsticks offer, so I usually buy light shades or just dab the colour on for a 'stained' look. I also have the Revlon Just Bitten lipstain which is pretty good as well. I saw a review for L'Oreal Paris Studio Secrets Lip Glow in Elle magazine, and thought I'd try it out. It was £8.49 in Boots, but when I bought it, it was on offer for £6.49. It comes in one shade, a really nice pink, and it reacts to the heat and moisture of your lips, meaning you get a bespoke lip colour. It looks really nice on, a nice subtle pink.
2&3 – MUA (Makeup Academy) is sold exclusively at Superdrug and is one of the best budget makeup brands I've seen in a while. Their core range is all sold at £1, and whilst the range isn't massive, the products are a good quality considering they retail for £1 each. MUA launched MUA Professional, which each product is around £2 - £4 and the Professional range has a bigger selection of products. I saw this palette again in Elle magazine, and had to buy it. I love the colours in this palette (Starry Night), the mix of silvers, blues and dusky pinks work well together. It cost £4 and the quality of the eye shadow is really good for the price tag. Gutted when I went and dropped it on the floor, breaking up some of the shadows!
4&5 – I saw a review on this 17 eye shadow trio at Milk Teef and had to get it! I love doing a smoky eye and I don't think I always suit using dark colours, so I always opt for a bronzey smoky eye. I'm always attracted to these colours in eye shadow sets and I love how metallic and shiny they are. I always buy 17 eye shadows, I have loads of them! The single eye shadows are £3.89 and the trios are £5.49, so you can afford to buy loads!
6 – I LOVE ballet pumps, they're my go-to shoe choice. They're so comfy and always make an outfit look cute and girly! Primark do some of the best ballet pumps ever, cheap and cheerful! People say Primark stuff is cheap tat, but they have such good stuff in at the moment and I've loved Primark since I was 10 (seriously!). These beauts were £6 and they're nice and glittery! I hardly every wear heels, particularly on a night out, and I always feel under dressed going out in flats, but I never feel under dressed in these! Saw an extremely similar Aldo pair on Asos, but are £49 more expensive! Reckon I got a bargain!
Been pretty lazy today and watched Monday's Made in Chelsea and both episodes of The Only Way Is Essex from this week. Never watched MIC or TOWIE before till the new series, but I'm actually addicted! Thank you to my new followers as well, mean a lot to me if you follow my blog!
Katie xo