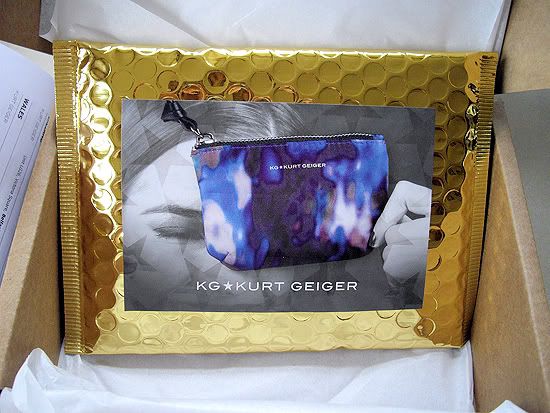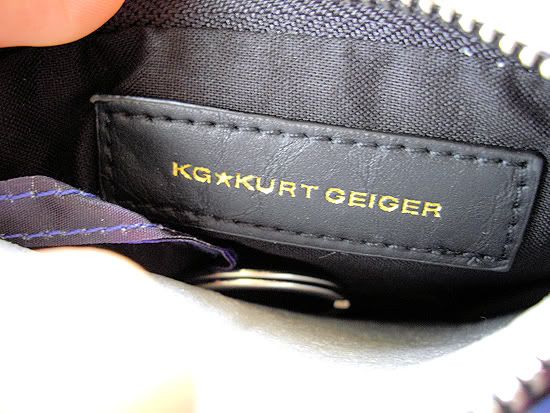 Elle magazine are giving readers a free £20 Kurt Geiger gift card in the December issue. I picked up my copy on Monday and couldn't wait to spend it! A couple of years ago Elle did the same and gave a £20 gift card for Kurt Geiger but I never ended up using it. I didn't really want to use it on a pair of shoes, so the 'Everything But The Dress' accessories range seemed a perfect way to spend it. I had a look at what they had to offer and chose the
'Éclair' small pouch
at £20. I'd seen this pattern on some other KG products in a magazine, and really liked the 'inky' look to it. The standard P&P is £4, so including using the gift card, I only paid for the P&P. I ordered it on Monday night and got it yesterday which I'm really chuffed about! It came in a cute gold giffy bag, which I thought was an unusual but kind of cool way of packaging things. It's only small and I'll probably only use it as a coin purse on a night out, when you only need something for money, ID and bank cards. I definitely wouldn't have paid £20 for it, the quality of the actually product is good, just personally I wouldn't use it enough to pay £20 for it!
Just a quick mention to new followers; thankyou! It means a lot when people check out my blog! I'm only starting but I feel a big rush of achievement when I sign in to see new followers and new page views. Also, massive thanks to
Zoe
for mentioning me on Twitter! I check Zoe's blog out all the time, and I'm really chuffed she mentioned me on Twitter! She also said that she loved my pictures! Thanks guys!
Have you guys got your gift card? What are you going to buy with it?
Katie xo