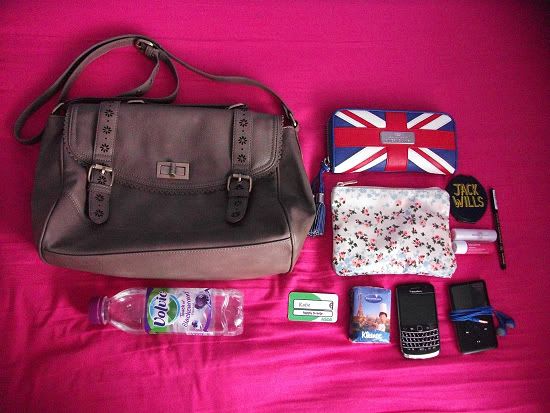 To start off my posts, I thought I'd go for a fail safe 'What's in my bag?' type of post. If you're nosey like me (curious as I like to say!), then there's nothing more that I like to see on blogs than these type of posts. Everyone has either done one of these types of posts, or are thinking of it, and us girls (and guys!) seem to always want to have a nosey at what the other is carrying around with them everyday. This is basically what I carry around everyday, with everything hauled out of my bag and photographed for you to have a peek at.
I got the bag from Primark a few weeks ago after I've been eyeing it up for ages. It comes in a light burgundy colour as well, but I always like to play safe with neutral colours for bags. It was £9, and the lining inside is what really made me grab it and run to the tills. I haven't taken a photo of the lining, but it's a cute cream and brown checked/tartan pattern. I'm such a sucker for cute linings in bags and coats! The cute flower punch out detail on the straps makes it seem more expensive than a £9 Primark job! The union jack purse is from River Island, which I bought about a year/year and a half ago. This is one of my favourite purses, and I always switch over every couple of months or so, but this is always going to be my fave! The lining inside is cute leopard print as well! (Told you I love cute linings!) The makeup bag is from Primark, which always contains an eyeliner, lipstick, lip balm, packet of tissues and my Jack Wills mirror. For obvious reasons, I always have my phone in my bag and my iPod. I like to carry a bottle of water round with me and there's always a name badge for work ticking around in the bottom of my bag!
Me and my friend Anna are going to a charity fashion show hosted my First Direct yesterday, which was really good! More on the show and Anna later!
Katie xo